Release Date: 1/26/08
For Immediate Release: Espigh scores career high but women fall to Cheyney 66-51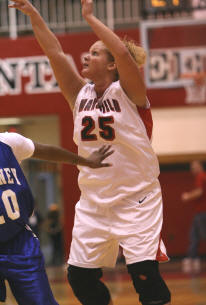 Mansfield- Alicia Espigh led all scorers with 27 points but it wasn't enough as Cheyney beat Mansfield in PSAC east play 66-51 Saturday afternoon at Mansfield.
Cheyney jumped out to a 10-2 lead in the first minutes of the game. Emily Akins hit a jumper to make Cheyney's run.
The Wolves extended their lead to 22-9 on a jumper by Angel Stephens and stretched the lead to as many as 20 points.
Mansfield put together a quick spurt at the end of the end, cutting the lead to 16 on a three-pointer by Espigh and a foul shot by Akins.
Mansfield went on a 15-2 run early in the second half to get back within four at 38-34 with a jumper by Jeannette Meacham.
A three-pointer by Cheyney's Ashley Blake made it a seven point game as the Wolves stretched the lead back to 11.
A three-pointer by Espigh made it a seven point game but the Mountaineers couldn't get any closer falling 66-51.
Cheyney had a balanced attack with no player scoring in double figures but 12 players scored at least two points while Blake and Lutfiyya Muhammad led Cheyney with nine points.
Meacham had nine points and eight rebounds for the Mountaineers.
Mansfield will host East Stroudsburg at Decker Gym on Wednesday Jan. 30 at 5:30 pm