RELEASE DATE: 12/26/07
FOR IMMEDIATE RELEASE: Mountaineer women take on #6 ranked Drury University in opening round of South Padre Shootout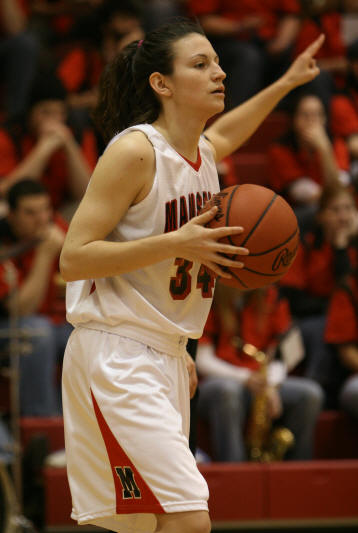 MANSFIELD – The Mansfield University women's basketball team will take on their second nationally ranked opponent in the last five games when they square off against the Lady Panthers of Drury University (MO) in the opening round of the South Padre Shootout at South Padre Island, TX on Friday, Dec. 28.
Mansfield is 3-4 on the season after upsetting once beaten Shippensburg 76-56 last week. Drury has earned a berth in the NCAA Division II National Championship Tournament five times since starting the women's program in the 2000-01 season. The Lady Panthers reached the Elite Eight in last year's national championship tournament before losing to national champion Southern Connecticut State.
Drury is ranked #6 in the latest ESPN/USA Today National Division II Poll. Mansfield dropped a 71-47 decision at #5 ranked IUP in early December.
Mansfield has won two of their last three games including the impressive victory over Shippensburg. Junior guard Clarissa Correll (Mansfield/Mansfield) tops three starters averaging double-figures in scoring at 14.4 points per game. Correll has averaged 19.0 points over the last three games.
Junior shooting guard Alicia Espigh (Lewistown/Lewistown) is averaging 13.7 points per game while hitting 41.0% of her 3-point attempts (16-39). Junior point guard Courtney Brooks (Harrisburg/Susquehanna Township) is averaging 11.4 points per outing with 22 assists and 25 steals.
Junior forward Emily Akins (Elmira,NY/Southside) is averaging 6.7 points and 6.2 rebounds per game while junior guard Brittany Reed (Coal Township/Cape Henlopen DE) is averaging 6.0 points per outing.
Drury is 7-1 on the season with the only loss coming in a 73-58 setback to Lewis University. The Lady Panthers have won five straight games coming into the South Padre Shootout. They have beaten then #3 ranked Washburn earlier in the season an edged Ferris State (MI) 66-64 in their last game.
Drury has a well-balanced offensive attack that features six players averaging 8.6 points per game or better. Melanie Oliver tops the team in scoring averaging 11.0 points per game with Molly Carter averaging 10.5 points.
Depending on a win or loss in the opening round, Mansfield will face either West Texas A&M or St. Thomas Aquinas (NY) on Saturday.
West Texas A&M is a member of the Lone Star Conference and is led by junior guard Emily Brister. The Conference Player of the Year last season, Brister is averaging 24.3 points per game this season.
St. Thomas Aquinas (NY) is a member of the East Coast Conference and is currently 4-3 on the season. The Spartans are led by Takiyah Ingram who averages 19.3 ppg