RELEASE DATE: 12/19/07
FOR IMMEDIATE RELEASE: Mountie Women Shoot Season-High Percentage in 76-56 Win Over Shippensburg
MANSFIELD – The Mountaineer women shot a season-high 57.4% from the field en route to downing Shippensburg 76-56 in a PSAC crossover contest at Decker Gymnasium on Wednesday evening. Four Mountaineer women scored in double figures, led by Clarissa Correll who finished with 19 points.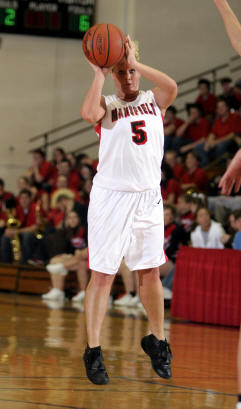 The game was tied at 22-22 with eight minutes to go in the first half before Alicia Espigh landed back-to-back 3-pointers to spark a 22-8 run to end the half with the Mountaineers leading 44-30.
Mansfield increased the lead to open the second half and led by at least 15 points for the entire half, building the lead up to as high as 23 points.
Correll added six rebounds and seven assists to her team leading performance while Espigh and Courtney Brooks each scored 15 points. Espigh added six rebounds while Brooks brought down a team-high seven rebounds. Emily Akins added 10 points and six rebounds. Jeanette Meacham added eight points and seven rebounds on the bench.
Lauren Beckley led the Lady Raiders with a game-high double-double performance of 26 points and 12 rebounds while Kasey Gardner added 11 points. Gardner and Elise Mercer each fouled out of the contest.
The Mountaineers shot a season-high 57.4% from the field to Shippensburg's 35.9% while Mansfield held the rebounding advantage at 41-28.
With the win, Mansfield improves to 3-4 and the season while Shippensburg drops to 8-2.
The Mountie women will take a short break before traveling to South Padre Island, Texas on December 28.
Official Basketball Box Score
Shippensburg University vs Mansfield University
12/19/07 5:30 p.m. at Mansfield, PA Decker Gymnasium
--------------------------------------------------------------------------------
VISITORS: Shippensburg University 8-2 (0-0)
TOT-FG 3-PT REBOUNDS
## Player Name FG-FGA FG-FGA FT-FTA OF DE TOT PF TP A TO BLK S MIN
12 GARDNER, Kasey...... f 5-12 0-3 1-3 4 1 5 5 11 1 3 0 2 35
20 MERCER, Elise....... f 3-9 0-0 0-0 1 4 5 5 6 2 0 0 2 36
41 BECKLEY, Lauren..... f 11-25 3-10 1-2 4 8 12 2 26 0 2 2 1 40
21 METZ, Michelle...... g 1-3 0-2 0-0 0 2 2 1 2 5 2 0 0 31
22 FOGLE, Megan........ g 2-12 1-7 4-4 2 0 2 4 9 4 4 0 2 36
24 WASSER, Sheila...... 1-2 0-0 0-0 0 1 1 0 2 1 0 0 0 20
32 MONROIG, Natalie.... 0-1 0-0 0-0 0 0 0 3 0 1 0 0 0 2
TEAM................ 1 1
Totals.............. 23-64 4-22 6-9 12 16 28 20 56 14 11 2 7 200

TOTAL FG% 1st Half: 12-31 38.7% 2nd Half: 11-33 33.3% Game: 35.9% DEADB
3-Pt. FG% 1st Half: 2-10 20.0% 2nd Half: 2-12 16.7% Game: 18.2% REBS
F Throw % 1st Half: 4-6 66.7% 2nd Half: 2-3 66.7% Game: 66.7% 0

--------------------------------------------------------------------------------
HOME TEAM: Mansfield University 3-4 (0-0)
TOT-FG 3-PT REBOUNDS
## Player Name FG-FGA FG-FGA FT-FTA OF DE TOT PF TP A TO BLK S MIN
24 AKINS, Emily........ f 5-6 0-0 0-0 1 5 6 2 10 1 1 0 1 27
15 BROOKS, Courtney.... g 5-9 3-5 2-3 1 6 7 1 15 4 4 0 2 36
23 REED, Brittany...... g 0-1 0-1 1-2 1 3 4 3 1 0 0 0 0 24
25 ESPIGH, Alicia...... g 4-6 4-6 3-4 0 6 6 3 15 0 0 0 0 33
34 CORRELL, Clarissa... g 5-10 1-3 8-11 2 4 6 4 19 7 7 0 0 35
10 MEACHAM, Jeannette.. 4-9 0-0 0-0 1 6 7 0 8 1 1 0 0 21
11 AKINS, Katie........ 0-0 0-0 0-0 0 0 0 0 0 0 0 0 0 2
21 EASTMAN, Kelli...... 1-1 0-0 0-0 0 0 0 0 2 0 0 0 0 5
32 ATALLAH, Tegan...... 3-4 0-0 0-0 0 1 1 1 6 2 3 0 0 14
35 GAETA, Merissa...... 0-1 0-1 0-0 0 1 1 0 0 0 0 0 0 3
TEAM................ 3 3 2
Totals.............. 27-47 8-16 14-20 9 32 41 14 76 15 18 0 3 200

TOTAL FG% 1st Half: 18-29 62.1% 2nd Half: 9-18 50.0% Game: 57.4% DEADB
3-Pt. FG% 1st Half: 5-10 50.0% 2nd Half: 3-6 50.0% Game: 50.0% REBS
F Throw % 1st Half: 3-3 100 % 2nd Half: 11-17 64.7% Game: 70.0% 1

--------------------------------------------------------------------------------
Officials: Bob Mastromareno, Phil Wingert, Tony Finotti
Technical fouls: Shippensburg University-None. Mansfield University-None.
Attendance: 112
Score by Periods 1st 2nd Total
Shippensburg University....... 30 26 - 56
Mansfield University.......... 44 32 - 76