Release Date: 12/8/07
For Immediate Release: Espigh scores 22 to lead Mansfield over Houghton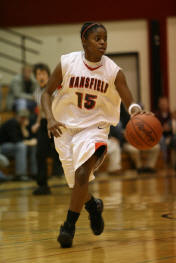 Houghton- Senior Alicia Espigh scored a game high 22 points to lead Mansfield to a 72-66 victory over Houghton Saturday afternoon at Houghton. She scored 17 of her 22 in the second half going six for six from the field and three for three on 3-pointers.
Houghton pulled close in the second half, but Espigh hit two late three pointers to put the game out of reach.
"In the second half we ran the offense a little differently and we penetrated well and were able to find her for open shots," head coach Ruth Hermansen said.
Courtney Brooks added 13 points and Clarissa Correll scored 12 points.
"Clarissa played real well defensively," Hermansen said. "They had a real good point guard and she covered her pretty well."
"It was a nice team win," Hermansen said. "We got contributions from everybody that played tonight."
The Mountaineers next game will be against Lock Haven on January 18 at Decker Gym.
Official Basketball Box Score -- GAME TOTALS -- FINAL STATISTICS
Mansfield University vs Houghton College
12/8/07 2:00 at PE Neilsen
--------------------------------------------------------------------------------
VISITORS: Mansfield University
TOT-FG 3-PT REBOUNDS
## Player Name FG-FGA FG-FGA FT-FTA OF DE TOT PF TP A TO BLK S MIN
10 Jeanette Meacham.... 4-9 0-0 0-1 5 4 9 1 8 3 4 0 1 16
11 Katie Akins......... 0-0 0-0 0-0 0 0 0 2 0 0 2 0 1 18
15 Courtney Brooks..... 3-10 1-4 6-6 3 3 6 2 13 3 2 0 2 25
21 Kelli Eastman....... 1-2 1-2 0-0 0 1 1 1 3 1 1 0 0 6
23 Brittany Reed....... 3-5 2-2 0-0 1 3 4 0 8 4 3 0 2 32
24 Emily Akins......... 2-12 0-4 0-0 1 1 2 4 4 2 3 0 1 25
25 Alicia Espigh....... 7-11 4-7 4-5 3 4 7 0 22 0 4 0 1 32
32 Tegan Atallah....... 1-2 0-0 0-1 0 1 1 0 2 1 0 0 1 0
34 Clarissa Correll.... 5-10 1-1 1-1 2 3 5 1 12 3 1 0 4 40
35 Merissa Gaeta....... 0-0 0-0 0-0 0 0 0 0 0 0 0 0 0 5
TEAM................ 1 1
Totals.............. 26-61 9-20 11-14 15 21 36 11 72 17 20 0 13 199


TOTAL FG% 1st Half: 13-33 39.4% 2nd Half: 13-28 46.4% OT: 0-0 0.0% Game: 42.6% DEADB
3-Pt. FG% 1st Half: 5-11 45.5% 2nd Half: 4-9 44.4% OT: 0-0 0.0% Game: 45.0% REBS
F Throw % 1st Half: 4-6 66.7% 2nd Half: 7-8 87.5% OT: 0-0 0.0% Game: 78.6% 0


--------------------------------------------------------------------------------
HOME TEAM: Houghton College
TOT-FG 3-PT REBOUNDS
## Player Name FG-FGA FG-FGA FT-FTA OF DE TOT PF TP A TO BLK S MIN
10 Lisa Skrypnik....... 3-7 0-0 0-0 2 0 2 4 6 3 2 0 0 27
14 Becky Kallal........ 2-4 1-3 0-0 0 0 0 0 5 3 1 0 1 18
15 Cassie Merrill...... 3-11 3-8 0-0 0 1 1 4 9 1 6 0 0 26
20 Shannon Daugherty... 1-4 0-1 0-0 1 2 3 1 2 2 1 0 1 13
22 Ashley Scudder...... 2-6 0-0 2-2 3 4 7 0 6 1 3 1 1 33
23 Leah French......... 7-12 3-7 2-2 2 5 7 3 19 2 4 0 3 24
24 Ashley Dupler....... 6-9 0-0 1-1 2 6 8 1 13 3 3 1 0 32
25 Jody Tripler........ 0-0 0-0 0-0 0 0 0 1 0 0 0 0 0 4
30 Marci Jonathan...... 1-1 0-0 0-1 0 1 1 0 2 0 1 0 0 2
32 Stephanie Hudson.... 0-1 0-1 0-1 3 0 3 1 0 1 2 0 0 14
50 Kara Schrader....... 2-4 0-1 0-1 1 1 2 0 4 0 0 0 0 7
TEAM................ 3 3
Totals.............. 27-59 7-21 5-8 14 23 37 15 66 16 23 2 6 200


TOTAL FG% 1st Half: 12-28 42.9% 2nd Half: 15-31 48.4% OT: 0-0 0.0% Game: 45.8% DEADB
3-Pt. FG% 1st Half: 2-8 25.0% 2nd Half: 5-13 38.5% OT: 0-0 0.0% Game: 33.3% REBS
F Throw % 1st Half: 2-2 100 % 2nd Half: 3-6 50.0% OT: 0-0 0.0% Game: 62.5% 0


--------------------------------------------------------------------------------
Officials:
Technical fouls: Mansfield University-None. Houghton College-None.
Attendance:
Score by Periods 1st 2nd OT Total
Mansfield University.......... 35 37 0 - 72
Houghton College.............. 28 38 0 - 66