Release Date: 12/1/07
For Immediate Release: Women fall to Clarion 78-51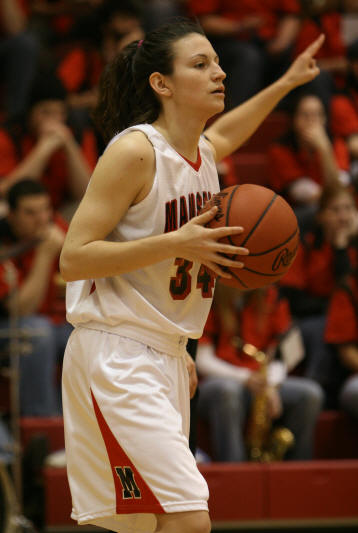 Clarion- Clarion scored the games first points and never trailed beating Mansfield 78-51 on Saturday afternoon at Clarion
Clarion build a 17-4 lead eight minutes into the game. Clarissa Correll hit a three-pointer to make it a ten point game, but Mansfield never got the defecit under ten points and trailed at halftime 39-22.
Mansfield cut the lead to 48-33 on a jumper by Brittany Reed but Clarion went on a 15-4 run to pull away.
Correll scored 14 points to lead the Mountaineers while Reed scored a career high 11 points. Clarion's Katrina Greer scored a game high 22 points.
Official Basketball Box Score
Mansfield vs Clarion "Golden Eagles"
12/01/07 1 p.m. at Clarion, Pa.
--------------------------------------------------------------------------------
VISITORS: Mansfield 1-2
TOT-FG 3-PT REBOUNDS
## Player Name FG-FGA FG-FGA FT-FTA OF DE TOT PF TP A TO BLK S MIN
15 BROOKS, Courtney.... * 3-8 0-4 1-1 1 5 6 4 7 1 3 0 4 30
23 REED, Brittany...... * 5-7 1-1 0-0 2 2 4 3 11 1 3 0 2 32
24 AKINS, Emily........ * 4-13 0-1 1-2 3 2 5 3 9 0 1 0 0 23
25 ESPIGH, Alicia...... * 2-9 0-3 0-0 3 3 6 2 4 0 0 1 0 31
34 CORRELL, Clarissa... * 6-16 1-4 1-1 2 2 4 0 14 0 5 0 0 35
10 MEACHAM, Jeannette.. 1-6 0-0 0-2 8 1 9 3 2 0 3 0 0 13
11 AKINS, Katie........ 0-3 0-0 0-0 1 0 1 0 0 1 2 2 0 9
21 EASTMAN, Kelli...... 0-0 0-0 0-0 1 2 3 2 0 0 4 0 0 8
32 ATALLAH, Tegan...... 0-5 0-1 0-0 1 0 1 1 0 0 0 0 0 10
35 GAETA, Merissa...... 1-6 0-1 2-2 3 0 3 1 4 1 0 1 0 9
TEAM................ 4 3 7 2
Totals.............. 22-73 2-15 5-8 29 20 49 19 51 4 23 4 6 200

TOTAL FG% 1st Half: 0-0 0.0% 2nd Half: 22-73 30.1% Game: 30.1% DEADB
3-Pt. FG% 1st Half: 0-0 0.0% 2nd Half: 2-15 13.3% Game: 13.3% REBS
F Throw % 1st Half: 0-0 0.0% 2nd Half: 5-8 62.5% Game: 62.5% 2

--------------------------------------------------------------------------------
HOME TEAM: Clarion "Golden Eagles" 4-1
TOT-FG 3-PT REBOUNDS
## Player Name FG-FGA FG-FGA FT-FTA OF DE TOT PF TP A TO BLK S MIN
12 COHILL, My'Kea...... * 3-8 0-1 1-1 0 7 7 0 7 3 3 1 2 27
14 GRIMM, Ashley....... * 3-6 3-6 0-0 0 0 0 0 9 7 5 0 2 30
15 ALBANESE, Jessica... * 5-12 0-0 3-4 6 4 10 1 13 3 2 1 0 28
21 GREER, Katrina...... * 7-14 2-5 6-7 1 2 3 1 22 2 0 0 0 32
42 PRATT, Sara......... * 3-7 0-0 1-2 5 6 11 3 7 0 2 4 0 27
11 STINSON, Ann........ 0-0 0-0 0-0 0 0 0 0 0 1 0 0 0 3
22 SMITH, Shaina....... 2-4 1-1 2-2 0 0 0 2 7 3 1 0 1 20
24 GRABIGEL, Chelsey... 0-2 0-1 1-2 0 0 0 2 1 0 1 0 1 8
32 FRIES, Sarah........ 2-2 0-0 1-1 0 0 0 0 5 0 1 0 0 6
44 ZABRESKY, Janelle... 1-3 0-0 5-6 3 4 7 3 7 1 1 6 3 19
TEAM................
Totals.............. 26-58 6-14 20-25 15 23 38 12 78 20 16 12 9 200

TOTAL FG% 1st Half: 0-0 0.0% 2nd Half: 26-58 44.8% Game: 44.8% DEADB
3-Pt. FG% 1st Half: 0-0 0.0% 2nd Half: 6-14 42.9% Game: 42.9% REBS
F Throw % 1st Half: 0-0 0.0% 2nd Half: 20-25 80.0% Game: 80.0% 2

--------------------------------------------------------------------------------
Officials: Pam Miller, Phil Wingert, Brad Rauber
Technical fouls: Mansfield-None. Clarion "Golden Eagles"-None.
Attendance: 250
Score by Periods 1st 2nd Total
Mansfield..................... 22 29 - 51
Clarion "Golden Eagles"....... 39 39 - 78