RELEASE DATE: 10/15/07
FOR IMMEDIATE RELEASE: Women's basketball holds first practice of 2007-08 season – Tough schedule includes trip to South Padre Island over Christmas holiday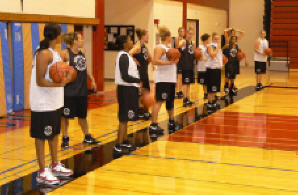 MANSFIELD – Smiles and excitement were the order of the day as the Mansfield University women's basketball team held the first practice of the 2007-08 season this evening in Decker Gymnasium.
"It's always exciting to start a new season," said head coach Ruth Hermansen as she enters her ninth season at the helm of the Mountaineer program. "It should be interesting. We have a lot of very good players returning – people who can really score."
The Mountaineers, who are coming off back-to-back playoff seasons, return four starters from last season and have one of the most experienced teams in school history.
Juniors Mallory Hafer, Courtney Brooks, Clarissa Correll and Emily Akins were all starters last season along with senior Jeanette Meacham who started in 10 games.
Senior Kelli Eastman with juniors Brittany Reed and Katie Akins along with sophomore Marissa Gaeta all played in 23 or more games last season.
Perhaps the best news of the day was the return of junior shooting guard Alicia Espigh, who was the Mountaineers leading scorer when she was sidelined after the third game of last season. Espigh is healthy and looks as good as ever.
The Mountaineer do have a challenging schedule including tournament trips to West Virginia and South Padre Island, TX along with a very tough PSAC slate.
You can get your first glimpse of the team Friday evening at 8 p.m. during Mountie Madness at Decker Gymnasium.