RELEASE DATE: 1/01/08
FOR IMMEDIATE RELEASE: Women's basketball faces more tough competition at Fairmont State Classic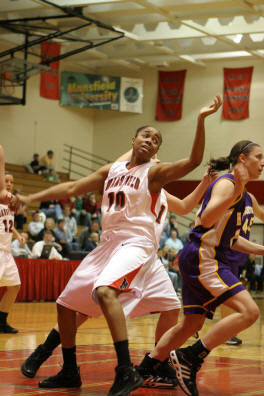 MANSFIELD – After posting a third-place finish at the South Padre Shootout in South Padre Island, TX three days ago, the Mansfield University women's basketball team will be on the road again when they face another round of tough competition at the Fairmont State Classic in West Virginia on Jan. 2 & 3.
The Mountaineers, who faced #6 ranked Drury in the opening round at South Padre, will take on tournament host Fairmont State at 6 p.m. on Jan. 2 and Concord (WV) University at 1 p.m. on Thursday.
Concord and Fairmont were picked #1 and #2 in the West Virginia Intercollegiate Athletic Conference (WVIAC) coach's preseason poll.
Mansfield lost to #6 Drury in the opening round of the South Padre Shootout but came back and beat St. Thomas Aquinas 58-53 in overtime.
Senior Jeannette Meacham (Clairton/Mercyhurst Northeast) came off the bench in both games at South Padre to average 12.5 points and 13.0 rebounds in tournament play to earn all-tournament honors. Also scoring in double figures at South Padre were junior guards Alicia Espigh (McVeytown/Lewistown) (11.5 ppg), Courtney Brooks (Harrisburg/Susquehanna Township) (10.5 ppg) and Clarissa Correll (Mansfield/Mansfield)(10.0 ppg).
Mansfield is currently 4-5 on the season and will take on red-hot Fairmont State (6-1) where the Falcons are a perfect 3-0 in the friendly confines of Joe Retton Arena including a stunning 65-60 win over #5 IUP in their last game.
Fairmont is led by Gabby Gattuso averaging 13.9 points and a team-best 6.7 rebounds per game. Danielle Cornish and Ashley Vavrek are averaging 13.0 points per game.
The Mountaineers will face Concord University Thursday at 1 p.m.
Concord is 5-2 on the season after beating Queens (NC) 78-54 on 12/19/07. The Lady Lions feature four players scoring in double-figures led by senior Samm Nester (16.3 ppg). Casidy Smith (11.1 ppg), Becca Flanagan (11.0) and Jamie Clusman (10.6) are all scoring threats.
Mansfield has three players in double-figures led by Clarissa Correll averaging 13.4 points per game. Alicia Espigh, who has hit 41% of her 3-point attempts, is averaging 13.1 ppg with Courtney Brooks scoring at a 11.2 ppg pace.
Things don't get any easier for the Mountaineers when they return home to host California University (PA) on Saturday, Jan. 5. California is currently 9-2 on the season and led the PSAC in team scoring.