RELEASE DATE: 1/30/08
FOR IMMEDIATE RELEASE: Mansfield women down East Stroudsburg 62-59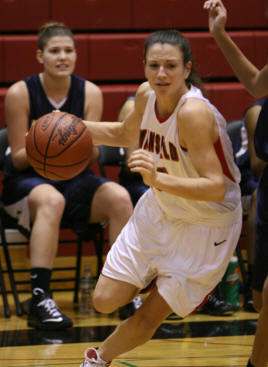 MANSFIELD – Clarissa Correll, Alicia Espigh and Jeannette Meacham combined for 46 points to lift Mansfield to a 62-59 win over East Stroudsburg in a PSAC East game at Decker Gymnasium Wednesday night.
The win snapped a five-game losing streak and was the first conference victory in four games this season.
Mansfield took its first lead of the game on a layup by Meacham midway through the first half and held a 33-30 lead at halftime largely on the strength of Correll and Espigh who combined for 22 first half points.
The Mountaineers opened up a 10 point lead early in the second half with a 13-4 run sparked by a layup by Espigh and baskets scored by everyone on the court, Katie Akins, Jeannette Meacham, Emily Akins, Clarissa Correll and Kelli Eastman.
The Mountaineers took a 57-46 advantage on an Espigh layup with 4:48 to go before East Stroudsburg went on a 9-2 run by using a full-court press to pull to 61-59 with seven second left.
Meacham hit a free throw and East Stroudsburg missed a 3-pointer in the final second to earn Mansfield its sixth win of the year.
Correll and Espigh each had a game-high 16 points while Meacham added a double double wih 14 points and 10 rebounds. Jackie Yandrisevits and Monika Fogelsanger led East Stroudsburg with 14 points apiece.