Release Date: 3/1/08
For Immediate Release: Furious late rally falls just short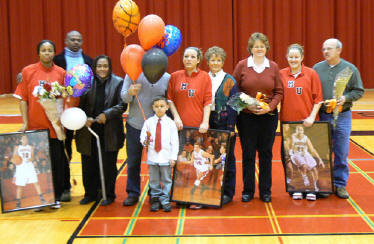 Mansfield- The Mansfield University women came back from a 14 point deficit with 2:43 remaining in the game to pull within three but Bloomsburg hung on for a 64-62 victory Saturday in a PSAC East contest.
It was a memorable day for the Mountaineers as seniors Brittany Reed, Jeannette Meacham and Kelli Eastman were honored before the game.
The Mountaineers started the game on an 8-2 run that was started off with a Jeannette Meacham layup. Bloomsburg tied the game at 11 on a three-pointer by Kelly Joyce.
Bloomsburg went on a 12-0 run to take a 23-14 lead. Mansfield broke the run with a jumper by Alicia Espigh and brought the lead to four with a three-pointer by Reed.
Bloomsburg went on a 7-0 run to increase the lead to 11. Espigh again broke the run with a jumper.
Bloomsburg went into halftime with a 36-24 lead.
Mansfield cut the lead to five seven minutes into the second half on a three-pointer by Meacham to make the score 41-36.
Bloomsburg steadily increased their lead to as many as 14 before Mansfield rallied one final time.
Courtney Brooks started the rally with a jumper and a layup by Eastman and a three-point play by Espigh brought the lead to seven
Eastman made her first three-pointer of the game to cut the lead to four. Lauren Healy then made two foul shots for the Huskies.
Reed hit a three-pointer to make it a two point game. Healy made one foul shot to make it a three point game and the Mountaineers missed a three-pointer to tie the game.
Bloomsburg hung on for a 64-62 win.
Healy led Bloomsburg with 19 points while Colleen Kegerreis had 16 points and 14 rebounds and Monica Dennison added 10 points.
Espigh led all Mansfield scorers with 15 points while Reed had career highs with 13 points and eight rebounds, Meacham had 12 points and 13 rebounds and Clarissa Correll had 11 points.