Release Date: 1/19/08
For Immediate Release: Mansfield women fall to Millersville 57-37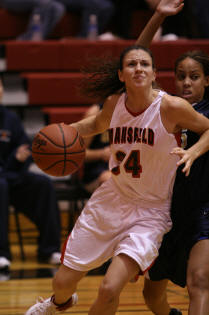 Millersville- The Mansfield women shot just 29.5 percent from the field losing to Millersville 57-37 in a PSAC east contest at Millersville on Saturday afternoon.
Millersville took the early lead and went on an 11-2 run to pull out to a 20-9 first half lead.
The Marauders pushed the lead to as many as 17 points before Mansfield fought back with a jumper by Katie Akins and a layup from Clarissa Correll to make the halftime deficit 13 points.
The Mountaineers came out strong early in the second half cutting the Millersville lead to just five seven minutes into the half. Jeannette Meachem hit a jumper and six straight points by Correll made the score 32-27.
Millersville followed the Mansfield spurt with an 18-4 run with 11 minutes to go in the game to put the game away.
Correll led Mansfield with 13 points while Jenna Craig had 10 points and eight rebounds for Millersville.


Official Basketball Box Score -- GAME TOTALS -- FINAL STATISTICS
Mansfield vs Millersville University
01/19/08 1 p.m. at Millersville, Pa. (Pucillo Gymnasium)
--------------------------------------------------------------------------------
VISITORS: Mansfield 5-12 (0-2 East)
TOT-FG 3-PT REBOUNDS
## Player Name FG-FGA FG-FGA FT-FTA OF DE TOT PF TP A TO BLK S MIN
24 AKINS, Emily........ f 2-3 1-1 0-0 1 5 6 2 5 0 0 0 1 31
35 GAETA, Merissa...... f 2-6 0-0 0-2 1 5 6 2 4 0 4 0 1 21
10 MEACHAM, Jeannette.. g 2-9 0-1 2-2 1 3 4 1 6 3 2 0 0 31
25 ESPIGH, Alicia...... g 1-4 0-3 2-2 1 1 2 2 4 0 2 0 1 36
34 CORRELL, Clarissa... g 4-9 1-2 4-5 2 3 5 1 13 3 7 0 1 38
11 AKINS, Katie........ 2-7 0-0 0-0 0 1 1 3 4 1 0 0 0 14
21 EASTMAN, Kelli...... 0-2 0-0 1-2 0 3 3 3 1 1 3 0 0 20
32 ATALLAH, Tegan...... 0-4 0-1 0-0 0 1 1 1 0 0 1 0 1 9
TEAM................ 6 1 7 2
Totals.............. 13-44 2-8 9-13 12 23 35 15 37 8 21 0 5 200

TOTAL FG% 1st Half: 7-20 35.0% 2nd Half: 6-24 25.0% Game: 29.5% DEADB
3-Pt. FG% 1st Half: 1-5 20.0% 2nd Half: 1-3 33.3% Game: 25.0% REBS
F Throw % 1st Half: 4-5 80.0% 2nd Half: 5-8 62.5% Game: 69.2% 1

--------------------------------------------------------------------------------
HOME TEAM: Millersville University 12-4 (2-0 East)
TOT-FG 3-PT REBOUNDS
## Player Name FG-FGA FG-FGA FT-FTA OF DE TOT PF TP A TO BLK S MIN
03 CRAIG, Jenna........ f 5-9 0-0 0-1 3 5 8 0 10 1 1 2 2 29
22 ST. JULIEN, Gladine. f 2-8 0-0 3-4 4 1 5 4 7 0 2 0 0 18
30 COVER, Kari......... g 2-7 0-2 0-2 3 2 5 1 4 1 0 0 3 22
32 PHILO, Jenna........ g 4-12 4-11 0-0 1 5 6 1 12 5 2 0 2 37
34 BELLAMY, Aiesha..... g 2-9 0-0 2-2 3 2 5 3 6 6 3 0 1 29
05 KUNZMAN, Kristin.... 1-3 0-0 4-4 0 1 1 1 6 0 0 0 0 15
10 STROMAN, Dominique.. 1-1 0-0 0-1 1 1 2 2 2 0 2 0 1 12
33 GREEN, Raquel....... 2-6 0-0 0-0 3 3 6 1 4 0 0 4 0 25
35 MOYER, Ashley....... 2-7 2-6 0-0 0 0 0 2 6 1 1 0 0 13
TEAM................ 3 2 5 2
Totals.............. 21-62 6-19 9-14 21 22 43 15 57 14 13 6 9 200

TOTAL FG% 1st Half: 12-36 33.3% 2nd Half: 9-26 34.6% Game: 33.9% DEADB
3-Pt. FG% 1st Half: 3-10 30.0% 2nd Half: 3-9 33.3% Game: 31.6% REBS
F Throw % 1st Half: 5-7 71.4% 2nd Half: 4-7 57.1% Game: 64.3% 2

--------------------------------------------------------------------------------
Officials: Cathy Beam, Sheila Collins, Sharen Bey
Technical fouls: Mansfield-None. Millersville University-None.
Attendance: 500
Score by Periods 1st 2nd Total
Mansfield..................... 19 18 - 37
Millersville University....... 32 25 - 57