RELEASE DATE: 1/16/09
FOR IMMEDIATE RELEASE: Mansfield women run out of gas in 59-51 loss at Kutztown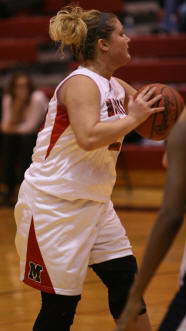 KUTZTOWN – Mansfield ran out of gas in the final eight minutes of the game in a 59-51 loss at Kutztown in the opening game of PSAC East play at Keystone Hall Wednesday night.
With the game tied 9-9 after the first five minute of play, the Mountaineers went on a 9-0 run started by a 3-pointer by Alicia Espigh and ending with a layup by Clarissa Correll at the 9:27 mark for a 18-9 lead.
Mansfield maintained the lead for the rest of the first half taking a 30-22 at halftime.
The Mountaineers continued to lead until the 13:20 mark of the second half when Rachel Weidensaul hit a three-pointer to give Kutztown a 36-34 lead. Mansfield retook the lead on a layup by Jeannette Meacham.
Mansfield held the lead until the 7:36 mark when Melissa McQuade hit a three-pointer to give the Golden Bears a 42-40 lead that they would not relinquish.
The Mountaineers pulled to within four at 48-44 on a Katie Akins foul shot but got no closer as Kutztown pulled away.
Espigh led Mansfield with 14 points while Jeannette Meacham added 10 points and eight rebounds.
Mercedes Van Wagner had 18 points and 13 rebounds for Kutztown.


Official Basketball Box Score -- GAME TOTALS -- FINAL STATISTICS
Mansfield vs Kutztown
01/16/08 6:00 PM at Keystone Hall - Kutztown, PA
--------------------------------------------------------------------------------
VISITORS: Mansfield 5-11, 0-1 PSAC E
TOT-FG 3-PT REBOUNDS
## Player Name FG-FGA FG-FGA FT-FTA OF DE TOT PF TP A TO BLK S MIN
10 MEACHAM, Jeannette.. * 4-7 0-0 2-2 1 7 8 4 10 2 1 0 0 27
24 AKINS, Emily........ * 3-11 1-3 0-0 1 2 3 3 7 3 3 1 2 33
25 ESPIGH, Alicia...... * 5-10 4-7 0-0 2 3 5 1 14 0 0 0 1 28
34 CORRELL, Clarissa... * 2-6 0-3 2-2 1 3 4 3 6 2 4 0 0 40
35 GAETA, Merissa...... * 0-3 0-1 0-0 0 2 2 2 0 1 2 1 0 12
11 AKINS, Katie........ 1-5 0-0 4-5 0 7 7 3 6 2 2 0 2 25
21 EASTMAN, Kelli...... 4-11 0-1 0-0 3 3 6 1 8 1 2 0 0 32
32 ATALLAH, Tegan...... 0-0 0-0 0-0 0 1 1 0 0 0 0 0 0 3
TEAM................ 1 1 2
Totals.............. 19-53 5-15 8-9 9 29 38 17 51 11 14 2 5 200

TOTAL FG% 1st Half: 10-27 37.0% 2nd Half: 9-26 34.6% Game: 35.8% DEADB
3-Pt. FG% 1st Half: 4-7 57.1% 2nd Half: 1-8 12.5% Game: 33.3% REBS
F Throw % 1st Half: 6-6 100 % 2nd Half: 2-3 66.7% Game: 88.9% 0

--------------------------------------------------------------------------------
HOME TEAM: Kutztown 8-8, 0-1 PSAC E
TOT-FG 3-PT REBOUNDS
## Player Name FG-FGA FG-FGA FT-FTA OF DE TOT PF TP A TO BLK S MIN
11 WISEMILLER, Rachel.. * 1-6 1-5 2-2 1 5 6 1 5 3 1 1 1 25
13 STARR, Meredith..... * 0-6 0-4 0-0 1 0 1 1 0 2 0 0 0 30
15 WEIDENSAUL, Rachel.. * 4-14 2-7 0-0 0 4 4 2 10 0 1 1 0 34
23 McQUADE, Melissa.... * 4-11 1-4 4-6 2 7 9 1 13 4 2 0 2 38
53 VAN WAGNER,Mercedes. * 5-8 0-0 8-10 7 6 13 4 18 1 2 0 1 26
05 DELLEGROTTI, Lara... 2-5 2-3 2-2 0 0 0 2 8 1 0 0 2 15
21 BROWN, Molly........ 0-0 0-0 0-0 0 0 0 2 0 0 1 0 0 1
25 PERCICH, Brittany... 0-0 0-0 0-0 0 0 0 0 0 0 0 0 0 1
31 REYNA, Lisi......... 1-3 0-0 0-0 0 1 1 0 2 0 0 0 0 9
32 DOVEY, Katie........ 0-0 0-0 0-0 0 1 1 0 0 0 1 0 0 4
41 MELVIN, Vivian...... 1-2 0-0 1-2 0 1 1 0 3 1 1 0 0 10
43 SITARZ, Claire...... 0-0 0-0 0-0 0 0 0 1 0 1 0 0 0 7
TEAM................ 1 1 2
Totals.............. 18-55 6-23 17-22 12 26 38 14 59 13 9 2 6 200

TOTAL FG% 1st Half: 8-26 30.8% 2nd Half: 10-29 34.5% Game: 32.7% DEADB
3-Pt. FG% 1st Half: 2-8 25.0% 2nd Half: 4-15 26.7% Game: 26.1% REBS
F Throw % 1st Half: 4-6 66.7% 2nd Half: 13-16 81.3% Game: 77.3% 1

--------------------------------------------------------------------------------
Officials:
Technical fouls: Mansfield-None. Kutztown-None.
Attendance: 290
Score by Periods 1st 2nd Total
Mansfield..................... 30 21 - 51
Kutztown...................... 22 37 - 59