1/13/08
FOR IMMEDIATE RELEASE: Women fall to Slippery Rock 72-50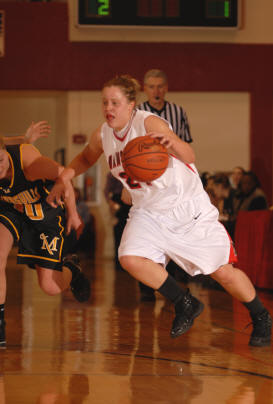 SLIPPERY ROCK -- The Mansfield womenís basketball team managed just 14 points in the first half and was never able to get back in the game falling to Slippery Rock 72-50 in a PSAC crossover contest Sunday afternoon.
Mansfield (5-10) could never get into the game offensively, missing 15 of its first 17 shots while shooting 17.9% from the floor in the first half.
Slippery Rock scored the first eight points of the game and Mansfield didnít get on the board until Alicia Espigh hit a jumper four minutes into the game. Slippery Rock jumped out to a 21-4 lead and held an 35-14 halftime lead.
Mansfield hit on 51.9% of its shots in the second half but Slippery Rock connected on a remarkable 71.4% from the floor over the last 20 minutes.
Espigh led Mansfield with 13 points while Jeannette Meachem had 11 points. Kelli Eastman scored nine points off the bench.
KellyAnn Staudinger topped five Slippery Rock (6-9) players in double-figures with 15 points.
Mansfield opens the PSAC East season at Kutztown on Wednesday.
O