RELEASE DATE: 2/09/08
FOR IMMEDIATE RELEASE: Mansfield women fall to Millersville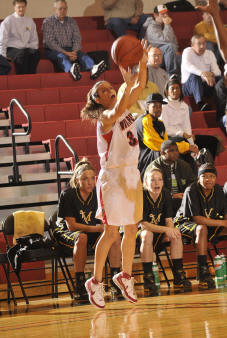 MANSFIELD – Jeanette Meacham and Clarissa Correll each scored 10 points but wouldn't be enough as Mansfield fell to Millersville 62-39 in a PSAC East contest Saturday afternoon in Decker Gymnasium.
Mansfield trailed 11-8 when Meacham hit a layup seven minutes into the game but Millersville steadily pulled away to take a 32-16 lead at halftime.
Mansfield shot just 30% (16-53) from the floor including 1-12 (8.3%) on 3-point attempts.
In addition to her 10 points Meacham just missed a double-double with nine rebounds. Correll dished out five assists in playing all 40 minutes. Merissa Gaeta pulled down a team and career high 11 rebounds.
Millersville, undefeated in PSAC East play, was led by Jenna Craig and Gladine St. Julien both of whom had double-doubles with St. Julien scoring a game high 19 points and pulling down 12 rebounds. Craig scored 14 points with 11 rebounds.
Mansfield hosts East Stroudsburg Wednesday evening in Decker Gym.