Release Date: 2/2/08
For Immediate Release: West Chester uses strong first half to top Mansfield 77-68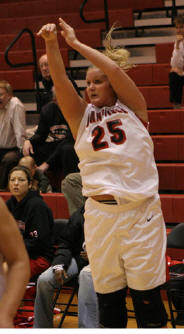 Mansfield- Mansfield scored first but West Chester 15 unanswered and went on to a 77-68 win at Decker Gym Saturday afternoon in a PSAC east conference game.
The Mountaineers scored first on a jumper by Merissa Gaeta but Catherine Andrews gave The Golden Rams a 3-2 on a three-pointer as West Chester held Mansfield scoreless for the next eight minutes until a three-pointer by Alicia Espigh.
Mansfield cut the lead to five with two free throws by Espigh but a three-pointer by Megan Stewart gave West Chester an eight point lead at 23-15.
The Mountaineers cut the lead down to three with a jumper by Tegan Atallah but West Chester answered with seven straight points to end the half with a 40-32 lead.
West Chester increased their second half lead to as many as 17 points twice, but Mansfield battled back to close to within nine on a jumper by Atallah to make the score 68-59.
Mansfield couldn't get any closer falling 77-68.
Espigh led the Mountaineers with 22 points, including six three-points and a perfect 5-5 from three-point range in the first half. Clarissa Correll had 14 and Gaeta scored a career high 14 points.
West Chester had four players in double figures led by Dana Weems with 19, followed by Andrews with 16, Stewart with 15 and Janelle Garber with 10 points.
Mansfield will travel to Bloomsburg on Wednesday Feb.6 for a PSAC east game.