RELEASE DATE: 2/26/07
FOR IMMEDIATE RELEASE: Jess Uhrich named PSAC East Player of the Week – Senior earns weekly honor for the third time this season and eighth time in her career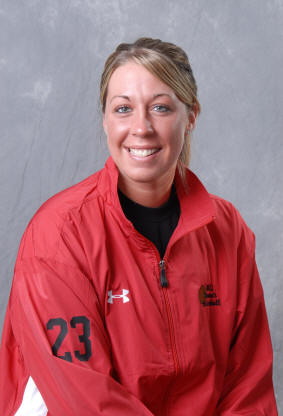 MANSFIELD – Mansfield University standout Jess Uhrich (Palmyra/Palmyra) has been named the Pennsylvania State Athletic Conference (PSAC) Eastern Division Player of the week for her outstanding performance during the last week of the regular season.
The senior forward broke the single-season scoring record (492 points) after averaging 29.0 points and 11.5 rebounds in two games. Uhrich scored 18 of her 31 markers against E. Stroudsburg in the second-half while scoring 16 of her 27 points against Bloomsburg in the first-half. For the week, Uhrich shot 21-of-45 (46.7 percent) from the field, including 4-of-8 from behind the arc and 12-14 at the charity stripe.
It marks the third time this season Uhrich has earned the honor and a record eighth-time in her career.
For the season, Uhrich tops the PSAC East in both scoring (18.9 ppg) and rebounding (10.0 rpg). She also has a conference high 15 double-doubles on the season.
Uhrich currently ranks fourth in school history in career scoring with 1,225 points and is tied with Alison Tagliferri for third in rebounding (852). She also ranks 10th in assists (216) and 12th in steals (144).
The Mountaineers will travel to East Stroudsburg on Tuesday for the opening round of the PSAC playoffs. Tip-off is set for 1 p.m. and will be broadcast on WNTE 89.5 FM and with live streaming at www.GoMounties.com