RELEASE DATE: 3/05/07
FOR IMMEDIATE RELEASE: Jess Uhrich Named PSAC East Player of the Year – Senior also earns All-PSAC East First Team honors for second straight year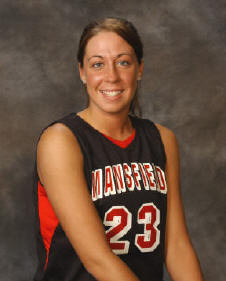 MANSFIELD – Mansfield University senior standout Jess Uhrich (Palmyra/Palmyra) has been named the Pennsylvania State Athletic Conference (PSAC) Eastern Division Player of the Year after leading the Mountaineers to their second straight PSAC playoff berth.
Voting for Player of the Year and All-PSAC honors was conducted among the PSAC East head coach and released by the conference office today.
"I'm so pleased for Jess and so proud of her," said Mountaineer head coach Ruth Hermansen. "She has worked so hard and has been such a team player during her career. I can honestly say our program wouldn't be what it is today without Jess Uhrich."
Uhrich, who also was named to All-PSAC East First Team honors for the second consecutive season, led the PSAC East in scoring (18.8 ppg), rebounding (10.1 rpg) and double-doubles (16) this season.
A starter in all 27 games, Uhrich scored a school record 508 points the season while pulling down 274 rebounds. Her 74 assists were second most on the team. She also blocked a team best 13 shots on the season and recorded 39 steals.
Uhrich was named the PSAC East Player of the Week three times during the 2006-07 campaign while leading the team in scoring in 19 games on the year and in rebounding on 22 occasions. She recorded the final double-double of her career scoring 16 points and pulling down 14 rebounds in a PSAC playoff loss at East Stroudsburg.
In 109 games during her career, Uhrich scored 1,241 points with 866 rebounds, 220 assists, 145 steals and 78 blocked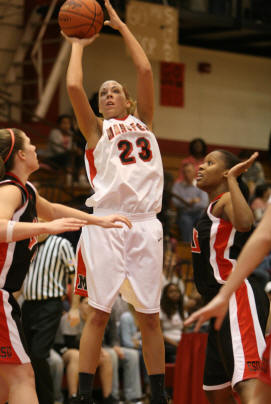 shots. She ranks in the Top 12 in every career category including third in rebounding, fourth in points, fifth in blocked shots and 10th in assists.
Uhrich, who has started the last 82 games in a row, has 33 career double-doubles and has earned PSAC East Player of the Week honors eight times.
It marks the second season in a row a Mansfield player has won PSAC Player of the Year honors. Alison Tagliaferri, currently playing professional basketball in Portugal, was named the PSAC East Player of the Year for the 2005-06 season.