RELEASE DATE: 1/14/07
FOR IMMEDIATE RELEASE: Jess Uhrich Scores 26 Points to Lead Mansfield to 56-48 Overtime Win Against Slippery Rock – Senior Becomes 12th 1,000 point scorer in MU women's basketball history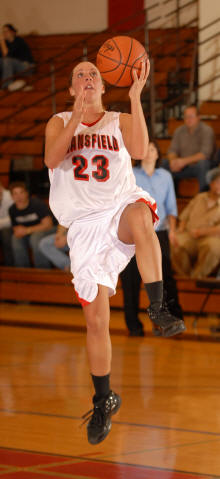 MANSFIELD – Jess Uhrich (Palmyra/Palmyra) scored a game high 26 points including her 1,000th career point to lead Mansfield to a 56-48 overtime win over Slippery Rock in a PSAC crossover contest at Decker Gymnasium Saturday afternoon.
"It was a great day for Jess (Uhrich) and a satisfying win for us," said head coach Ruth Hermansen. "If anyone deserved to get her 1,000 point in a win it's Jess and she worked very hard to make that happen today. She's just a terrific player who's played a key part in the success of our program."
The game was close throughout with Mansfield trailing 10-4 after the first five minutes of the contest before Uhrich's 3-pointer with capped off a 9-2 run giving MU a 13-12 lead at the 12:14 mark.
Slippery Rock countered with a 16-7 run to take a 26-19 lead into halftime. Uhrich and Courtney Brooks (Harrisburg/Susquehanna Township) scored 17 of Mansfield 19 first half points.
Mansfield cut the lead to 34-33 on a free throw by Emily Akins (Elmira,NY/Southside) eleven minutes into the second half and took its first lead since early in the first half when Mallory Hafer (Sayre/Athens) hit a slashing jumper for a 43-42 advantage with 4:10 in regulation.
Slippery Rock retook the lead on a layup by Nijha McNeely before Mansfield tied the game at 44-44on a Clarissa Correll (Mansfield/Mansfield) with 2:13 to play.
Another jumper by Hafer put Mansfield up 46-44 with ten seconds left, but Slippery Rock managed to tie the score on a layup by Jessica Schake with a second to go.
A soaring 3-pointer by Uhrich gave Mansfield a 49-46 lead in overtime and the Mountaineers never looked back with Correll and Brooks combining to hit 5-of-7 free throws in the final minute of the game.
Uhrich was dominating in the win recording her ninth double-double of the season with 26 points and 16 rebounds. She also dished out five assists with two steals in 43 minutes of play. Her 1,000 career point came on a layup with 11:41 to go in the second half. She now has 1,010 points in her Mountaineer career.
"It's a nice accomplishment," said Uhrich who became the 12th player in school history to reach the 1,000 point milestone. "But it wouldn't be nearly as special if we didn't pull out the win."
Courtney Brooks added 13 points with seven steals for the Mountaineers who picked up their second win in two days to improve to 8-7 overall. Hafer hit two key shots, scoring seven points with six rebounds.
Chere` Marshall led Slippery Rock (6-9) with 10 points
Mansfield, currently tied for the PSAC East lead (1-0) will host Kutztown this Wednesday evening at 5:30 p.m.