RELEASE DATE: 2/23/07
FOR IMMEDIATE RELEASE: Mountaineer Women Clinch Second Consecutive PSAC Playoff Birth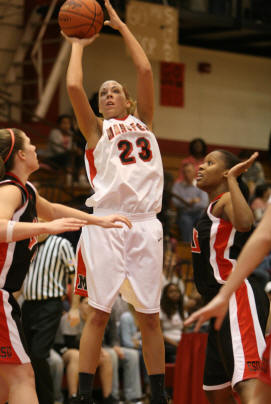 MANSFIELD -- The Mountaineer women's basketball team has clinched their second consecutive PSAC playoff birth.
East Stroudsburg defeated Kutztown 72-48 on Friday evening to eliminate the Golden Bears from contention and secure the Mountaineers a spot in the playoffs for the the second consecutive year and for the second time in school history.
The Mountaineers will play tomorrow afternoon at Bloomsburg for a chance to finish the season at 7-5 in the East which would establish a new school record for conference wins in a season.
If Mansfield can defeat Bloomsburg tomorrow, the Mountaineers can secure as high as the number three seed in the East.
With a victory tomorrow and a Millersville loss against West Chester, the Mountaineers would get the number three seed.
If Millersville wins tomorrow at home against West Chester, the Mountaineers will be locked into the number four seed regardless of a win or loss against Bloomsburg tomorrow.
If the Mountaineers secure the number three seed, they will travel to West Chester on Tuesday, Febraury 27th for the opening game of the playoffs.
Securing the number three seed actually gives Mansfield a chance to host a playoff game. The Mountaineers would have to knock off West Chester in the first round and then would receive a home game in the second round because the gym at ESU is being occupied by the National Wrestling Championships.
If the Mountaineers finish with the four seed, they will travel to East Stroudsburg on Tuesday night to face the number one seeded Warriors and will have no chance at securing a home playoff game.
Check back tomorrow afternoon for the final playoff picture following the game at Bloomsburg. Tip-off is scheduled for 1:00 pm.