RELEASE DATE: 1/17/07
FOR IMMEDIATE RELEASE: Mansfield Women Rally From 10-point Halftime Deficit to pull out 63-55 Win over Kutztown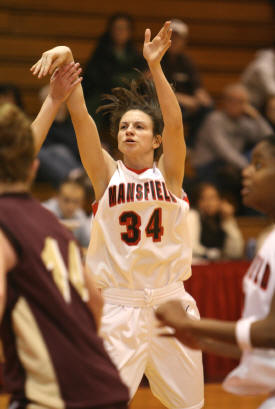 MANSFIELD – Jess Uhrich recorded her 10th double-double of the season with a game high 16 points and 11 rebounds to lead Mansfield to a come-from-behind 63-55 win over Kutztown in a PSAC East contest at Decker Gymnasium Wednesday night.
"We played great in the last 10 minutes of the game," said head coach Ruth Hermansen. "We didn't look too good in the first 30 minutes but the players never gave up on themselves and really turned the game around on the strength of their defense over the last part of the game."
Mansfield never got things started in the first half hitting just 26.7% from the floor including just 2-15 on 3-point attempts to trail 30-20 at intermission.
The Mountaineers would trail by as much as 33-20 in the first minute of the second half before slowly chipping away at the lead. Trailing 40-31 after a 3-pointer by Kutztown's Rachel Wisemiller with 13:44 to play, Mansfield went on a 13-2 run over the next six minutes taking their first lead of the game on a Clarissa Correll steal and layup for a 44-42 lead with 7:23 remaining.
The Mountaineers held a slim three-point lead with 2:12 when Courtney Brooks recorded the last of her six steals on the evening and finished with a layup to ice the game.
Uhrich, who scored 10 of her game high 16 points in the second half, tied former teammate Steph Rieser for 10th place on the MU all-time scoring list with 1,026 points. Courtney Brooks and Clarissa Correll each scored 12 points. Mallory Hafer scored all 10 of her points in the second half.
Jess Brady led Kutztown (4-12, 0-2) with 12 points.
Mansfield won its four straight, sweeping a four-game home stand to improve to 9-7 overall and remained in first place in the PSAC East with a 2-0 mark.
The Mountaineers travel to Cheyney this Saturday.