RELEASE DATE: 1/20/07
FOR IMMEDIATE RELEASE: Mountie Women Hold on to First Place in PSAC East with 81-75 Win over Cheyney in Double OT – Mallory Hafer Scores 11 of Career High 32 in Overtime Periods – Sets New School Record with Eight 3-pointers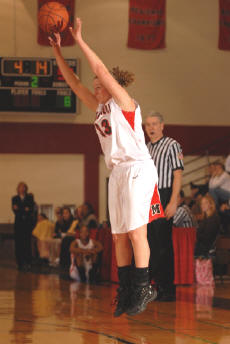 CHEYNEY – Mallory Hafer (Sayre/Athens) scored 11 of her career-high 32 points in overtime to lead Mansfield to a thrilling 81-75 double-overtime win over Cheyney in PSAC East basketball action at Cope Hall Saturday afternoon.
"That was probably the most exciting game since I've been at Mansfield," said head coach Ruth Hermansen. "The emotion and momentum of the game just went back and forth and back and forth. Mallory (Hafer) was just outstanding. She really stepped up this year, but never so much as today."
It look as if Mansfield had finally pulled away in a game that was close from the outset when they built a 56-51 lead with ninety seconds to play in regulation. But Cheyney forced three turnovers and led 60-58 on a layup by Angel Stephens. Courtney Brooks hit two free throws for Mansfield with :23 remaining to retire the game and Cheyney missed two 3-pointers final five seconds sending the game into the first overtime.
Cheyney scored the first six points to lead 66-60 on a jumper by Ebony Twiggs with 2:55 to play before Hafer buried a 3-pointer to cut the lead to 66-63 ten seconds later.
Jess Uhrich (Palmyra/Palmyra) made two free throws to cut the score to 66-65 before Cheyney's Danielle Jones buried a 3-pointer for a 69-65.
But Hafer responded with another 3-pointer to cut the lead to 69-68 at the two minute mark and Mansfield took a 71-69 lead on two free throws by Jeanette Meacham (Clairton/Mercyhurst North East) with 1:27 to go. But Cheyney would send the game into a second overtime on a layup by
Stephens with :27 remaining a Courtney Brooks (Harrisburg/Susquehanna Township) 3-pointer at the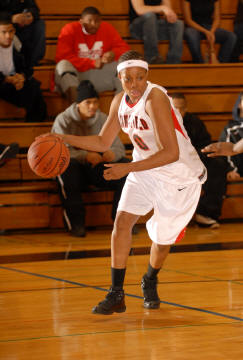 buzzer went off the glass.
With the scored tied at 75-75 in the second overtime, Hafer buried a school record eighth 3-pointer of the game with :36 to play and Brooks hit 3-4 free throws to pull out the win.
Hafer was the savior for the Mountaineers all game long, hitting 11-15 from the floor including 8-10 on 3-pointers. Jess Uhrich recorded her 11th double-double of the season and 28th of her career with 16 points and 11 rebounds while Courtney Brooks scored 10 points while dishing out five assists and recording five steals.
Ashley Blake led four Cheyney players in double figures with 16 points. Danielle Jones added 14.
The win extends the Mountaineers winning streak to five straight and ties for the second longest winning streak in school history. It also keeps the Mountaineers atop the PSAC East standings with a perfect 3-0 mark in conference play. Mansfield is 10-7 overall.
It also was the 75th win for head coach Ruth Hermansen and the fifth time in her eight year tenure she has won 10 or more games in a season. the program had won 10 or more games in a season just three times before hermansen took over in the 1999-2000 season.
Mansfield has a bye on Wednesday before traveling toe West Chester next Saturday.
Newspaper Box Score
Mansfield vs Cheyney
1/20/07 1:00 p.m. at Cope Hall, Cheyney, PA
At Cope Hall, Cheyney, PA
MANSFIELD 81, CHEYNEY 75
MANSFIELD (10-7:3-0)
HAFER, Mallory 11-15 2-2 32; UHRICH, Jessica 7-26 2-2 16; BROOKS, Courtney
2-9 5-6 10; MEACHAM, Jeanette 2-7 3-5 7; AKINS, Emily 2-9 1-4 6; GAETA,
Merissa 1-2 2-2 4; REED, Brittany 1-1 2-2 4; AKINS, Katie 1-2 0-0 2;
CORRELL, Clarissa 0-3 0-0 0. Totals 27-74 17-23 81.
CHEYNEY (3-13:0-3)
BLAKE, Ashley 5-17 2-2 16; JONES, Danielle 5-20 1-2 14; STEPHENS, Angel 6-7
0-0 12; PENN, Lillian 5-12 1-1 11; TWIGGS, Ebony 3-6 0-0 6; WEBB, Darrah 2-5
2-3 6; RANDALL, Martina 2-6 0-0 4; RUFFIN, Maria 1-2 0-0 2; JONES, Sade 1-2
0-0 2; MCPHERSON, Carla 1-2 0-0 2; MCFADDEN, Tamika 0-2 0-0 0. Totals 31-81
6-8 75.
Mansfield..................... 27 33 11 10 - 81
Cheyney....................... 28 32 11 4 - 75
3-point goals-Mansfield 10-21 (HAFER, Mallory 8-10; AKINS, Emily 1-2;
BROOKS, Courtney 1-4; AKINS, Katie 0-1; CORRELL, Clarissa 0-2; UHRICH,
Jessica 0-2), Cheyney 7-28 (BLAKE, Ashley 4-10; JONES, Danielle 3-10; WEBB,
Darrah 0-1; RANDALL, Martina 0-3; RUFFIN, Maria 0-1; JONES, Sade 0-1;
MCFADDEN, Tamika 0-2). Fouled out--Mansfield-None, Cheyney-BLAKE, Ashley.
Rebounds-Mansfield 49 (UHRICH, Jessica 11), Cheyney 52 (TWIGGS, Ebony 15).
Assists-Mansfield 16 (BROOKS, Courtney 5), Cheyney 21 (WEBB, Darrah 5).
Total fouls-Mansfield 12, Cheyney 18. A-323