RELEASE DATE: 1/06/07
FOR IMMEDIATE RELEASE: California Pulls Away from Mansfield Women in Second Half – Mallory Hafer Scores Game High 21 points for Mountaineers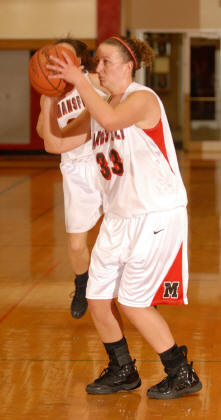 CALIFORNIA, PA – Mallory Hafer (Sayre/Athens) scored a game high 21 points, all of them on 3-pointers, but California used a strong second half effort to beat Mansfield 69-55 in a PSAC crossover contest at Hamer Hall Saturday afternoon.
Behind strong 3-point shooting from Hafer and sophomore point guard Courtney Brooks (Harrisburg/Susquehanna Township), the Mountaineers led most of the first half. Hafer, who went 4-4 on first half 3-point attempts, and Brooks combined for 15 of Mansfield first 19 points of the game.
The Mountaineers lead 16-9 at the midway point of the first half on a layup by Clarissa Correll (Mansfield/Mansfield) but California would score the last six points of the half to take a 31-26 advantage into intermission.
Mansfield would cut the lead to 35-32 on a jumper by Kelli Eastman (Wattsburg/Seneca) five minutes into the second half but Cal would answer with a 9-0 run and maintained a double-digit advantage for the rest of the game.
The taller California team held a 50-31 rebounding advantage and both teams combined for 56 turnovers including 31 for Mansfield. The Mountaineers connected on 11-22 three-pointers with Hafer and Brooks combining for 10 of them. Mansfield shot just three free throws, making two of them while California was 12-24 from the free throw line.
Hafer connected on 7-of-11 three-point attempts to score her career best 21 points.
Brooks, who has scored in double figures in each of the last four games, had 12 points with senior Jess Uhrich (Palmyra/Palmyra) recording her sixth double-double of the season with 12 points and a game high 12 rebounds.
Bre Dillon scored 17 points to lead California (8-3) with Kim Nowakowski had a double-double with 16 points and 11 rebounds.
The game marked the end of a tough six game road trip for Mansfield (5-7) which will open the PSAC East season this Wednesday when they host Millersville at Decker Gymnasium.