RELEASE DATE: 2/24/07
FOR IMMEDIATE RELEASE: Mountie Women Drop Heartbreaker in Final Minute at Bloomsburg
BLOOMSBURG -- Bloomsburg rallied to take their first lead of the second half with 51 seconds to go en route to stealing the win 72-69 from the Mountaineers. Mansfield secures the number four seed in the PSAC playoffs and will play at East Stroudsburg in the first round of the playoffs on Tuesday night.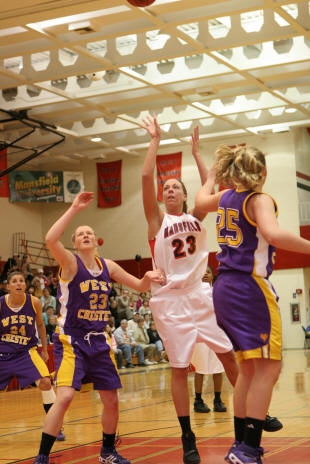 Jessica Uhrich became the Mountaineers all-time leading scorer points in a season with her 27 point performance. Her 492 points this season shatters the previous record of 468 points set by Alison Tagliaferri last season.
"It's a tough loss when it happens like that," said head coach Ruth Hermansen. "We're going to regroup and get ready for the playoffs."
The Mountaineers shot an impressive 7-of-11 from the 3-point arc in the first half to carry a 41-34 lead into the intermission.
Mansfield stayed in front for the entire half maintaining a 10 point lead with 5:30 to play at 64-54. The Huskies rallied with an 18-5 run down the stretch as the Mountaineers went cold in the final five minutes missing nine field goals and two free throws.
Jess Uhrich led the Mountaineers with 27 points and nine rebounds while Mallory Hafer added 15 points. Jeanette Meacham chipped in a double-double with 13 points and 10 rebounds.
The Mountaineers shot 58.6% from the floor in the first half before falling cold at 32.4% in the second half. Bloomsburg shot 48.1% for the contest.
Mansfield ends the regular season with a tie for the most conference wins in a season with six and clinches the second consecutive playoff berth and the second berth in school history.
The Mountaineers could not have advanced their position in the PSAC seedings as Millersville upset West Chester and secured the number three seed in the East.
The Mountaineers travel to East Stroudsburg on Tuesday evening to face the number one seeded Warriors in the first round of the playoffs. Tip-off time is scheduled for 7:00pm.

Newspaper Box Score
Mansfield University vs Bloomsburg University
02/24/07 1:00 p.m. at Bloomsburg, PA - Nelson Field House
At Bloomsburg, PA - Nelson Field House

BLOOMSBURG UNIVERSITY 72, MANSFIELD UNIVERSITY 69

MANSFIELD UNIVERSITY (13-13, 6-6 PSAC)
UHRICH, Jessica 11-21 2-2 27; HAFER, Mallory 5-9 2-2 15; MEACHAM, Jeanette
6-11 1-3 13; BROOKS, Courtney 2-8 0-0 6; AKINS, Emily 2-6 0-0 4; AKINS,
Katie 1-1 0-0 2; CORRELL, Clarissa 1-5 0-2 2; GAETA, Merissa 0-1 0-0 0;
EASTMAN, Kelli 0-1 0-0 0. Totals 28-63 5-9 69.

BLOOMSBURG UNIVERSITY (7-20, 3-9 PSAC)
MISKINIS, Gabe 9-14 2-2 25; KEGERREIS, Colleen 6-10 2-3 14; JOYCE, Kelly
5-10 3-4 14; BOONE, Nicole 2-6 4-4 10; JOHNSON, Kirby 4-10 0-0 9; SCHAUER,
Tiffany 0-4 0-0 0. Totals 26-54 11-13 72.

Mansfield University.......... 41 28 - 69
Bloomsburg University......... 34 38 - 72

3-point goals-Mansfield University 8-20 (UHRICH, Jessica 3-6; HAFER, Mallory
3-5; BROOKS, Courtney 2-5; CORRELL, Clarissa 0-1; AKINS, Emily 0-3),
Bloomsburg University 9-14 (MISKINIS, Gabe 5-6; BOONE, Nicole 2-3; JOYCE,
Kelly 1-2; JOHNSON, Kirby 1-3). Fouled out--Mansfield University-None,
Bloomsburg University-KEGERREIS, Colleen. Rebounds-Mansfield University 34
(MEACHAM, Jeanette 10), Bloomsburg University 31 (MISKINIS, Gabe 12).
Assists-Mansfield University 18 (CORRELL, Clarissa 7), Bloomsburg University
21 (BOONE, Nicole 8; MISKINIS, Gabe 8). Total fouls-Mansfield University 14,
Bloomsburg University 9. A-276