RELEASE DATE: 2/17/07
FOR IMMEDIATE RELEASE: Mounties Drop West Chester 84-74 on Senior Day
MANSFIELD – The Mountaineers took the lead in the final seconds of the first half and never looked back en route to a 84-74 victory over West Chester in PSAC East action Saturday afternoon at Decker Gymnasium.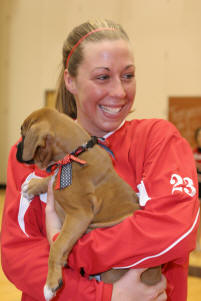 Senior Jessica Uhrich was honored in a senior day ceremony prior to the game where she was presented with a framed action poster, flowers, and a puppy from her coaches and teammates. When asked if the senior day celebration made her nervous, Uhrich responded: "I was so surprised by the puppy that my nerves about the game subsided after the first minute. I really just wanted to play today and get the win. Every win is one step closer to the playoffs now, and that's what it's all about right now."
"It's a big win for us," added head coach Ruth Hermansen. "I was really pleased with how composed we were today."
The Mountaineers tied their record from last season for wins in the conference moving to 6-4 in the PSAC East. Ironically, six wins does not guarantee the Mounties a playoff birth this season as it did last season.
Things were tight through the first half with seven lead changes and eight ties taking it down to the final seconds of the half tied at 29-29 before Emily Akins knocked down a jumper to send the Mounties into halftime with a 31-29 advantage.
Mansfield never looked back after opening the second half with a 9-0 run and building their lead to as much as 14 points. Brittany Reed came through in the final minutes of the game going 6-of-8 from the free throw line to seal the 84-74 win for the Mounties.
The 84 point performance is the highest scoring total of the season for the Mountaineers.
Clarissa Correll led Mansfield with 16 points while Jessica Uhrich and Mallory Hafer each added 14 points. Courtney Brooks added 11 with Emily Akins chipping in nine and Jeanette Meacham and Brittany Reed adding eight each.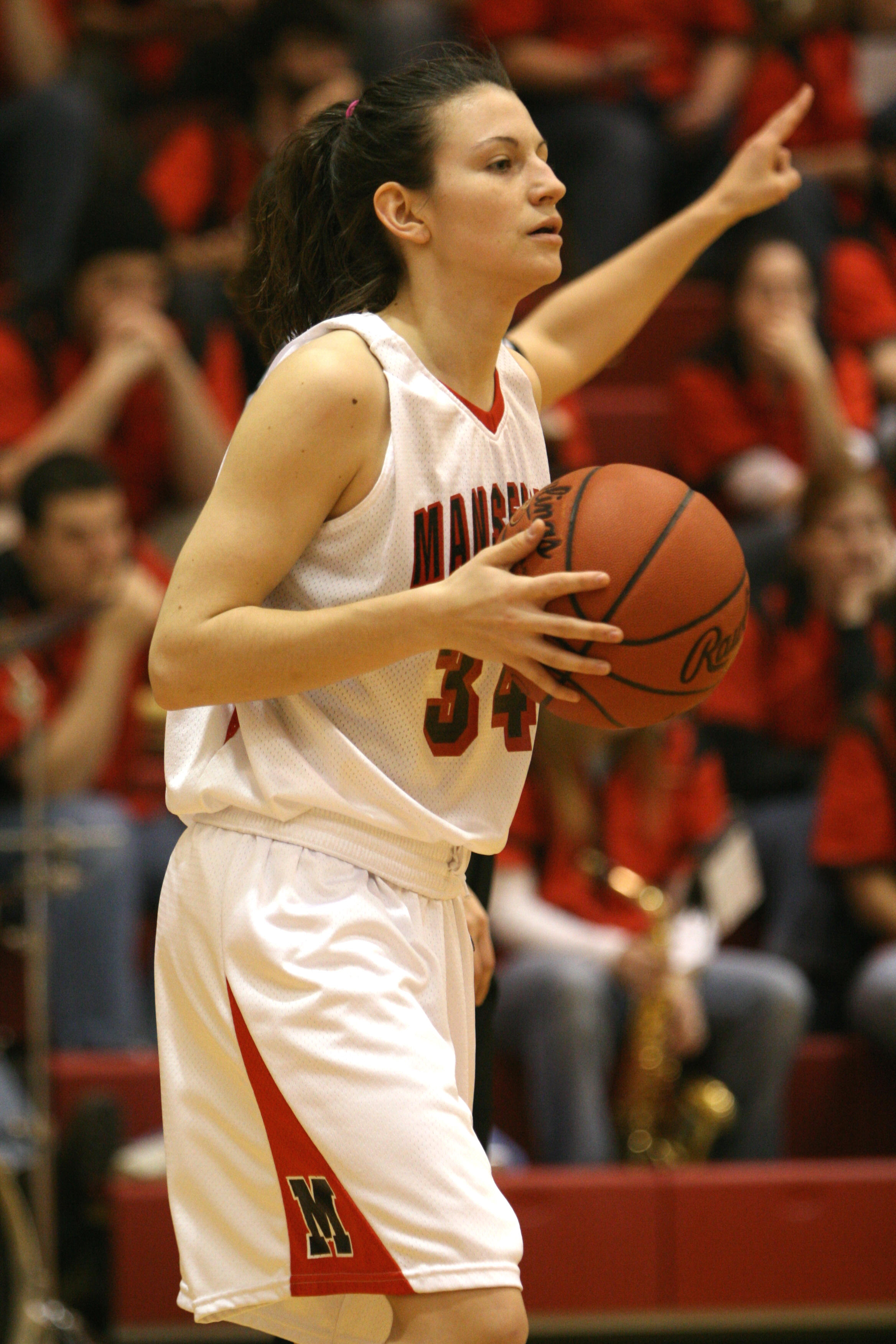 Katie Kline led West Chester with a game-high 27 points and nine rebounds while Natalie Winters added 14 points and Dominique Lewis and Amanda Vitzakovitch added 10 points each.
The Mountaineers shot 48.3% from the field after a sharp-shooting 54.8% in the second half as West Chester shot 41.8% from the field.
West Chester held a slight rebounding advantage at 38-36.
Mansfield moves to 13-11 overall and 6-4 in the PSAC East while West Chester falls to 14-11 overall and 8-2 in the East.
The Mountaineers are in the driver's seat for a birth in the playoffs and can clinch a playoff birth with a single victory in either of their final two games (at home against East Stroudsburg Wednesday night and away at Bloomsburg next Saturday). Both West Chester and East Stroudsburg have clinched a spot in the playoffs while Bloomsburg and Cheyney have been statistically eliminated leaving the Mountaineers to fight for the final two spots with Kutztown and Millersville.
Kutztown improved to 5-6 this afternoon when they beat Cheyney while Millersville plays this evening at east Stroudsburg. Kutztown has only one game meaning the highest they can finish will be 6-6 in conference play. With a single win in either of the Mounties final two games, Mansfield secures a spot in the playoffs with seven wins which would establish a new school record for conference wins in a season.
The Mountaineers will play Wednesday, February 21 against the PSAC East leading Warriors of East Stroudsburg at Decker Gymnasium in Mansfield. Tip-off is scheduled for 5:30 pm.


Newspaper Box Score
West Chester University vs Mansfield University
2/17/07 1:00 pm at Deker Gymnasium, Mansfield, PA
At Deker Gymnasium, Mansfield, PA

MANSFIELD UNIVERSITY 84, WEST CHESTER UNIVERSITY 74

WEST CHESTER UNIVERSITY (14-11 (8-2))
KLINE, Katie 10-14 7-9 27; WINTERS, Natalie 4-14 5-5 14; LEWIS, Dominique
4-10 2-2 10; VITZAKOVITCH, Amanda 4-7 0-0 10; GARBER, Janelle 3-5 0-0 6;
ANDREWS, Catherine 1-12 0-0 3; NEAL, Renata 1-1 0-0 2; BROWNE, Jovanna 1-1
0-0 2; CARLIN, Bridget 0-1 0-0 0; WELLER, Lindsay 0-2 0-0 0. Totals 28-67
14-16 74.

MANSFIELD UNIVERSITY (13-11 (6-4))
CORRELL, Clarissa 5-10 6-8 16; UHRICH, Jessica 7-15 0-0 14; HAFER, Mallory
2-8 8-8 14; BROOKS, Courtney 4-8 1-2 11; AKINS, Emily 4-8 0-0 9; REED,
Brittany 1-2 6-8 8; MEACHAM, Jeanette 3-3 2-2 8; GAETA, Merissa 2-4 0-0 4.
Totals 28-58 23-28 84.

West Chester University....... 29 45 - 74
Mansfield University.......... 31 53 - 84

3-point goals-West Chester University 4-13 (VITZAKOVITCH, Amanda 2-2;
ANDREWS, Catherine 1-6; WINTERS, Natalie 1-4; CARLIN, Bridget 0-1),
Mansfield University 5-19 (BROOKS, Courtney 2-4; HAFER, Mallory 2-7; AKINS,
Emily 1-2; REED, Brittany 0-1; UHRICH, Jessica 0-2; CORRELL, Clarissa 0-3).
Fouled out--West Chester University-None, Mansfield University-None.
Rebounds-West Chester University 38 (KLINE, Katie 9), Mansfield University
36 (UHRICH, Jessica 9). Assists-West Chester University 19 (ANDREWS,
Catherine 9), Mansfield University 20 (HAFER, Mallory 5; BROOKS, Courtney 5;
CORRELL, Clarissa 5). Total fouls-West Chester University 23, Mansfield
University 17. A-303