RELEASE DATE: 01/10/07
FOR IMMEDIATE RELEASE: Mountie Women Open East Schedule With Win – Uhrich Leads Mansfield With Double-Double -- 22 Points Shy of 1,000 Point Career Mark
MANSFIELD – Jessica Uhrich scored 14 points and had seven rebounds in the first half en route to a game-high performance of 18 points and 12 rebounds in a 61-57 victory over Millersville University on Wednesday evening at Decker Gymnasium to open the PSAC Eastern division conference schedule.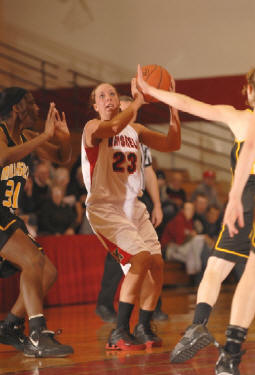 "It's a good win for us," said head coach Ruth Hermansen after the Mountaineers snapped a six game losing streak. "We really needed to get out of this rut."
The Mountaineer women opened the game with a 5-0 run sparked by an Emily Akins 3-pointer and a lay-up by Jessica Uhrich. Millersville responded with a 5-0 run to tie the score at 5-5 with just under 17:00 to play.
Mansfield bounced back to a seven point lead on back-to-back 3-pointers from Uhrich and Mallory Hafer to hold the lead at 14-7 with under 15 minutes to play.
The Mountaineers would build their lead to as much as 10 in the half before closing out the half with an eight point advantage at 32-24.
Mansfield was 38,7% from the field as Millersville shot 39.1% from the field. The Mountaineers hit 5-of-13 3-pointers in the half while Millersville shot 1-of-5 from behind the arc. Mansfield held the rebounding advantage at 21-16.
Millersville opened the second half with a 9-2 run to pull to within one point at 34-33 with just under 16 minutes to play and would take their first lead of the game at the 14:30 mark by a score of 37-36.
A lay-up by Clarissa Correll regained the Mountaineer lead at 38-37 and Mansfield would not relinquish the advantage for the remainder of the contest.
After a cold Mountaineer shooting streak, Millersville pulled to within one point at 58-57 with just under two minutes to go but clutch free-throws from Courtney Brooks down the final stretch allowed Mansfield to increase the advantage to four points and earn the 61-57 victory.
Uhrich led the Mountaineers with a double-double performance of 18 points and 12 rebounds. She now has a career total of 978 points, only 22 shy of reaching the prestigious 1,000 point mark. With three straight home games on the horizon, it is likely the senior will hit the milestone at Decker Gymnasium on her home court.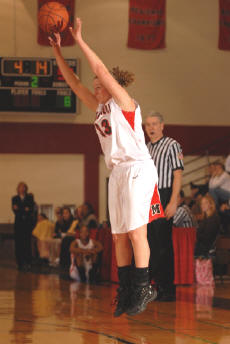 Mallory Hafer added 17 points including five 3-pointers. Courtney Brooks had 10 points, all coming in the second half and Clarissa Correll also added 10.
Millersville was led by Gladine St. Julien who recorded 16 points while Ashley Moyer added 12.
Mansfield shot 40.0% from the field for the game while Millersville shot 38.2%.
With the win, Mansfield moves to 6-7 on the season and more importantly 1-0 in PSAC East Conference play. Millersville falls to 8-5 overall and 0-1 in conference play.
The Mountaineers are back in action Saturday, January 13th when they host Edinboro in a PSAC Crossover contest at Decker Gymnasium. Tip-off is scheduled for 1:00 pm.
Newspaper Box Score
Millersville University vs Mansfield University
1/10/07 5:30 pm at Mansfield, PA
At Mansfield, PA
MANSFIELD UNIVERSITY 61, MILLERSVILLE UNIVERSITY 57
MILLERSVILLE UNIVERSITY (8-5 (0-1))
ST. JULIEN, Gladine 7-10 2-2 16; MOYER, Ashley 4-10 2-4 12; CRAIG, Jenna 4-5
1-2 9; REHM, Jamika 2-5 0-0 5; ROMANOSKI, Ashley 1-5 2-2 4; KUNZMAN, Kristin
1-2 1-2 3; COVER, Kari 0-4 3-4 3; FRANCHETTI, Carolyn 1-8 1-2 3; BELLAMY,
Aiesha 1-5 0-0 2; PHILO, Jenna 0-1 0-0 0. Totals 21-55 12-18 57.
MANSFIELD UNIVERSITY (6-7 (1-0))
UHRICH, Jessica 7-18 3-5 18; HAFER, Mallory 6-9 0-0 17; CORRELL, Clarissa
4-8 1-2 10; BROOKS, Courtney 1-6 7-8 10; AKINS, Emily 1-3 0-0 3; EASTMAN,
Kelli 1-2 0-0 2; MEACHAM, Jeanette 0-4 1-3 1. Totals 20-50 12-18 61.
Millersville University....... 24 33 - 57
Mansfield University.......... 32 29 - 61
3-point goals-Millersville University 3-10 (MOYER, Ashley 2-5; REHM, Jamika
1-2; COVER, Kari 0-1; FRANCHETTI, Carolyn 0-1; PHILO, Jenna 0-1), Mansfield
University 9-19 (HAFER, Mallory 5-8; AKINS, Emily 1-2; BROOKS, Courtney 1-3;
UHRICH, Jessica 1-3; CORRELL, Clarissa 1-3). Fouled out--Millersville
University-None, Mansfield University-None. Rebounds-Millersville University
44 (ST. JULIEN, Gladine 8), Mansfield University 27 (UHRICH, Jessica 12).
Assists-Millersville University 9 (MOYER, Ashley 3), Mansfield University 11
(BROOKS, Courtney 4; CORRELL, Clarissa 4). Total fouls-Millersville
University 18, Mansfield University 14. A-189