RELEASE DATE: 2/10/07
FOR IMMEDIATE RELEASE: Uhrich Records 14th Double-Double in 72-66 Win Over Cheyney
MANSFIELD – Jessica Uhrich recorded her 14th double-double of the season en route to lifting the Mountaineers over Cheyney 72-66 in PSAC East action Saturday afternoon at Decker Gymnasium.
The Mountaineer women rebounded from an ice-cold shooting streak in the two games prior to this contest to score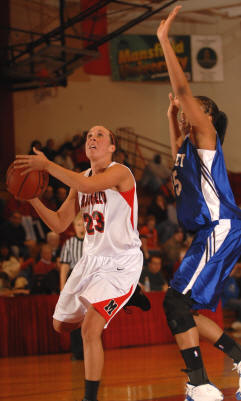 more points in the first half than in either of those complete games. The Mountaineers put up just 33 total points at Millersville and 35 points at Kutztown.
"It feels good to play at home," said head coach Ruth Hermansen. "I'm pleased with the confidence our women showed, especially in the first half after not playing well in the last two games."
Things clicked early for the Mountie women as they ran out to a 38-28 lead in the first half on 48.4% shooting. Uhrich scored 13 of her game-high 28 points in the first half while Mallory Hafer added seven points and Emily Akins added seven points on a perfect 3-of-3 from the field.
The Mountaineers would open the second half with more stellar shooting to build the lead up to 17 points at 56-39 with 11:19 to play.
Cheyney mounted a comeback in the final 10 minutes of play, drawing to within six points at 72-66 with 19 seconds to play but could not draw any closer as the Mountaineers sealed the 72-66 victory.
Uhrich led all scorers in the contest with 28 points while pulling down 10 rebounds and dishing out six assists. Mallory Hafer added 12 points while Emily Akins score nine. Clarissa Correll finished with seven points and four steals.
Cheyney was led by Danielle Jones who scored 25 points including five 3-pointers. Ashley Blake added 17 points for the Wolves.
Mansfield finished the game with a 50.0 shooting percentage from the field, nearly 30% higher than each of the two previous games. Cheyney shot 45.3% from the field after a 58.3% second half.
The Mountaineers held a slight rebounding advantage at 32-29.
With the win, Mansfield improves to above .500 overall and in the PSAC East at 12-11 and 5-4. Cheyney falls to 4-19 and remains winless in PSAC East play at 0-9.
The Mountaineers are currently fourth place in the PSAC East with the top four teams making the playoffs. East Stroudsburg and West Chester are tied at 7-1 with Millersville in third place at 5-3. Mansfield is fourth, one game ahead of Kutztown (4-5).
Mansfield has three more PSAC East games in the regular season and will play the next two games at home starting with senior day next Saturday, the 17th, when West Chester comes to town. Tip-off is scheduled for 1:00pm with Jessica Uhrich, Mansfield's sole senior, being honored in a senior day ceremony before the game.


Newspaper Box Score
Cheyney University vs Mansfield University
2/10/07 1:00 pm at Decker Gymnasium, Mansfield, PA
At Decker Gymnasium, Mansfield, PA

MANSFIELD UNIVERSITY 72, CHEYNEY UNIVERSITY 66

CHEYNEY UNIVERSITY (4-19 (0-9))
JONES, Danielle 9-12 2-3 25; BLAKE, Ashley 6-15 0-0 17; TWIGGS, Ebony 3-9
2-2 8; RUFFIN, Maria 2-4 2-2 6; UTTI, Ngozi 2-2 0-0 4; JONES, Sade 1-4 0-0
3; PENN, Lillian 1-1 0-0 2; STEPHENS, Angel 0-5 1-2 1; MCPHERSON, Carla 0-1
0-0 0. Totals 24-53 7-9 66.

MANSFIELD UNIVERSITY (12-11 (5-4))
UHRICH, Jessica 11-22 6-7 28; HAFER, Mallory 4-9 2-2 12; AKINS, Emily 4-5
0-0 9; CORRELL, Clarissa 2-5 3-4 7; GAETA, Merissa 3-5 0-0 6; MEACHAM,
Jeanette 2-4 0-2 4; BROOKS, Courtney 0-1 3-5 3; REED, Brittany 1-2 0-1 3;
EASTMAN, Kelli 0-1 0-0 0. Totals 27-54 14-23 72.

Cheyney University............ 28 38 - 66
Mansfield University.......... 38 34 - 72

3-point goals-Cheyney University 11-21 (JONES, Danielle 5-6; BLAKE, Ashley
5-12; JONES, Sade 1-2; RUFFIN, Maria 0-1), Mansfield University 4-11 (HAFER,
Mallory 2-5; REED, Brittany 1-1; AKINS, Emily 1-2; EASTMAN, Kelli 0-1;
CORRELL, Clarissa 0-1; UHRICH, Jessica 0-1). Fouled out--Cheyney
University-None, Mansfield University-None. Rebounds-Cheyney University 29
(TWIGGS, Ebony 9), Mansfield University 32 (UHRICH, Jessica 10).
Assists-Cheyney University 13 (BLAKE, Ashley 5), Mansfield University 13
(UHRICH, Jessica 6). Total fouls-Cheyney University 18, Mansfield University
10. A-193