RELEASE DATE: 7/1/08
FOR IMMEDIATE RELEASE: Stephens Tournament raffle offers once-in-a-lifetime prize – top winner will be guest of Phillies GM Pat Gillick at game this season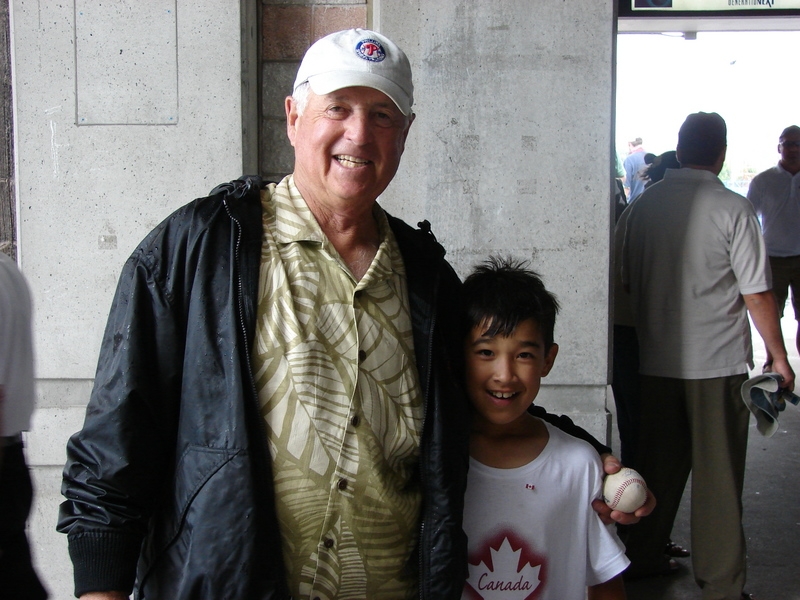 MANSFIELD -- In it's 10-year history the Joel Stephens Invitational Tournament has offered some big-time prizes but nothing compares to the top prize in this year's raffle.
For the cost of a $1 ticket some lucky winner will enjoy a once-in-a-lifetime opportunity of attending a baseball game with the General Manager of a Major League team.
Pat Gillick, the General Manager of the Philadelphia Phillies, will provide four tickets in the Hall of Fame section for a Phillies game this year.
That's a pretty good prize by itself but what's even more impressive is the tickets come with dinner before the game in the Phillies team dining room with Gillick himself along with a private tour of Citizen's Bank Park including the Phillies clubhouse before the game.
"I don't know anywhere else in the country you can win a game and dinner with the general manager of a Major League baseball team," said Joel's father Ron Stephens. "Pat Gillick is a terrific person who provided so much comfort to our family when Joel was with the Orioles. He did a lot for us then, but this is just an wonderful opportunity for some local fans to see have an opportunity that just doesn't exist anywhere else."
Raffle tickets are only $1 or six for $5.
This year's raffle includes baseball memorabilia and a special outing donated by the Philadelphia Phillies.
The Phillies package is a "once-in-a-lifetime" chance to win four (4) tickets to a Phillies game in the Hall of Fame Club Level, pre-game dinner in the Phillies Executive Dining Room and a personally guided tour of Citizens Bank Park by General Manager Pat Gillick, and preferred parking.
Other raffle items are:
· Williamsport Crosscutters ticket/merchandise package
· Limited edition bat from the Cooperstown Bat Company "Stadium Series"
· Special commemorative Joel Stephens Invitational bat
· Bat autographed by the Frederick Keys
· Cleveland Indians hat autographed by C.C. Sabathia
· Batting glove autographed by Travis Hafner
· Ball autographed by Victor Martinez
· Baltimore Orioles stadium blanket
· $50 in Cash
Tickets are $1/6 for $5.
Drawing to be held on July 5, 2008. Need not be present to win.
Raffle tickets are $1 or six for $5 and will be available Friday, Saturday and Sunday under the tent at Shaute Field on Friday, Saturday and Sunday with the winners announced on Sunday. You need not be present to win. All winners will be notified by phone.
The Joel Stephens Invitational Tournament was started 10 years ago as a way of honoring the memory of Joel Stephens.
Stephens, who is widely recognized along with former Heisman Trophy winner Ernie Davis as the top athlete in the Twin Tiers, was offered full-scholarships b y many NCAA Division I schools including Syracuse, Maryland and Clemson but was drafted in the ninth-round of the 1995 Major League Draft by the Baltimore Orioles.
A then end of his third season with the Orioles organization, Stephens was diagnosed with colon cancer and given just six months to live.
His dignity in battling the disease and his determination to play one more game inspired the entire community. Joel returned to play one more game for the Fredrick Keys, the Orioles Class A affiliate, before passing away at the age of 22 years-old on Sept. 30, 1998.
The Joel Stephens Invitational Tournament has evolved into one of the premier wooden bat tournaments in the Northeast with this year's 16-team field including teams for Pennsylvania, New York and Canada including local teams from Mansfield, Montoursville, Jersey Shore, Northern Tioga, Big Flats, Elmira Heights,
The 10th Annual Joel Stephens Tournament begins Thursday evening July 3 at 6 p.m. with Horseheads (NY) taking on Northern Tioga at Mansfield University's Shaute Field.
Friday schedule includes 11 games as well as opening ceremonies starting at 2 p.m. at Shaute Field. Saturday's schedule features 12 games at Shaute Field, Kelley Field in Smythe Park in downtown Mansfield and at Joel Stephens Field at Williamson High School in Tioga, PA.
Sunday is championship day with the winners of the four divisions competing or the Joel Stephens Championship and the division runner-ups competing for the Josh Palmer Championship.