RELEASE DATE: 3/13/10
FOR IMMEDIATE RELEASE: Mansfield's Brenae Edwards finishes third in the 5000 at NCAA Division II National Indoor Track & Field Championship to become first women's indoor All-American in MU history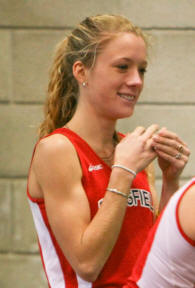 ALBUQUERQUE,NM – Mansfield University's Brenae Edwards finished third in the 5000 meters at the NCAA Division II Indoor Track & Field Championship in Albuquerque, NM Saturday night to become the first female indoor track and field All-American in school history.
Edwards, who entered the competition with the 5th fastest time in the nation, stayed in the lead pack of the field of 15 runners for the entire race which was broadcast live on the internet by CBS Sports.
The junior standout from Hazleton stayed with the top eight runners in a tight pack until the final two laps when prerace favorites Neely Spence of Shippensburg and Tanya Zeferjahn of Queens College (NC), as predicted, pulled away from the pack making it a two-person race for first place.
Edwards, who was in fifth place entering the final lap, hung in a moved up to third place when she cross the finish line with a time in a time of 17:25.48.
Spence won the race with a time of 17:19.98 followed by Zeferjahn at 17:21.42.
"She just outkicked the rest of the field over the last 200 meters," said coach Mike Rohl after the race. "We knew coming into the race it wasn't how fast she was, the key to the race was staying with the top five runners no matter what the pace and outkicking as many as she could at the end."
With the third-place finish become the first female runner in MU history to earn All-American status at the NCAA Division II Indoor Championship.