RELEASE DATE: 11/02/09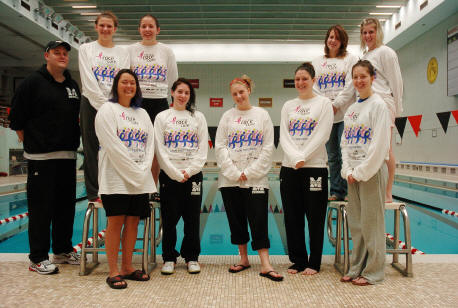 FOR IMMEDIATE RELEASE: Women's swim team raises $2,205 for breast cancer research
MANSFIELD – The Mansfield University women's swim team raised $2205.00 for breast cancer research by swimming 320 laps as part of the national Race for the Cure promotion on Oct. 24 sponsored by the Susan G. Koman Breast Cancer Foundation.
Each member of the Mountaineer swim team participated in swimming more than 8,000 yards at Decker Pool. Donations were made online at GoMounties.com.
"I've been involved in raising funds for breast cancer ever since my mother was diagnosed with the disease," said head coach Ian Coffey. "I talked with the girls on the team about this project and they all thought it was a great idea."
Member of the 2009-10 swim team are: Jonna Chilensky, Samantha Contino, Christine Gilles, Lindsey Gregg, Cassanda Griger, Elizabeth Keller, Megan Smickley, Elizabeth Stanton, Emily Staib, Kelley Wright, Taylor Zilinek.
Mansfield travels to Kutztown this Saturday before hosting East Stroudsburg on Nov. 14 starting at 1 p.m. at Decker Pool.