RELEASE DATE: 11/21/09
FOR IMMEDIATE RELEASE: Mansfield swimmers have strong finish in John Pigdeon Memorial at IUP --Taylor Zilinek, Liz Stanton, Megan Smickley and Lindsey Gregg all post top ten finishes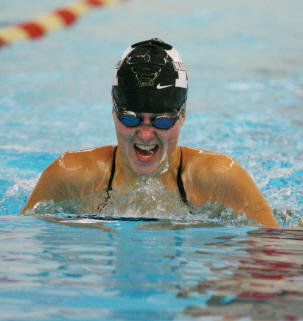 INDIANA, PA -- Taylor Zilinek, Liz Stanton, Megan Smickley and Lindsey Gregg all posted to 10 finishes to highlight an impressive performance by the young Mansfield University women's swim team in the final day of competition at the John Pigdeon Memorial meet Saturday at IUP.
A freshman, Zilinek was fourth overall in the 200 back with a time of 2:18.00 missing the PSAC qualifying time by .45 of a second. Stanton, a sophomore, was fifth in the 200 breaststroke with a time of 2:47.92 while Smickley, a junior and the team's only upperclassman, was seventh in the 200 fly at 2:29.59.
Freshman Lindsey Gregg was ninth in the mile freestyle (19:43.92).
The Mountaineer 400 free relay team of Christine Gillies, Emily Staib, Gregg and Cassie Griger finished fifth.
Mansfield scored 436 points during the three-day meet to finish fifth in the team standings.