RELEASE DATE: 1/16/09
FOR IMMEDIATE RELEASE: Mountie women sweep tri-meet with Wells and Pitt-Bradford for first two wins of the season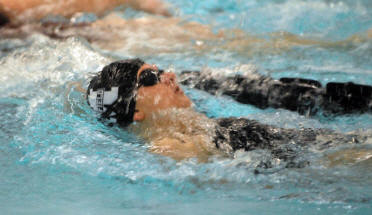 AURORA, NY – Tricia Learn and Megan Smickley each won three events to lead the Mansfield University women's swimming team to wins over Pitt-Bradford and Wells College Saturday afternoon.
Mansfield, which picked up its first two wins of the season, beat Pitt-Bradford 61-52 and downed host Wells 68-48.
Led by Learn and Smickley, Mansfield swimmers won eight of the 12 individual races and one of the two relays.
Learn took first in the 100 back (1:06.31), 200 back (2:20.72), and 200 IM (2:24.77) and also swam leadoff on the winning 200 medley relay (2:09.51).
Smickley was dominating in the freestyle winning the 1000 free (12:28.27) and 500 free (6:01.02) while also winning the 200 butterfly (2:34.24).
Also posting first place finishes for Mansfield was Christine Gillies in the 50 (27.82) and 100 free (1:02.74).
Gillies was also second in the 200 free (2:16.08) while Samantha Kutskel was second in the 100 breaststroke (1:24.81) and the 200 breaststroke (2:58.10). Emily Arnold was third in the same event (1:28.45).
Mansfield (2-6) travels to the California Vulcan Invitational next weekend.