RELEASE DATE: 1/24/09
FOR IMMEDIATE RELEASE: Women swimmers place five swimmers in top spots in 13 events at Vulcan Invite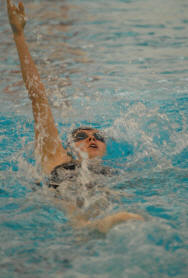 CALIFORNIA, (PA) – Trisha Learn led the way for the Mountaineers with a second place finish, two third place finishes and a fourth place finish at the California University of Pennsylvania Vulcan Invitational Friday and Saturday.
Learn took second in the 200 IM (2:22.35), third in the 1000 freestyle (11:42.26) and the 200 backstroke (2:16.90), and then took fourth in the 100 backstroke (1:04.28).
Learn was joined in the 200 IM by teammate Megan Smickley, who finished sixth (2:31.49).
Smickley also took third place in the 200 butterfly (2:31.56) and fifth in the 400 IM (5:23.31).
After her amazing season with the cross country team, Brenae Edwards finished third in the 100 free (58.12) and fourth in the 50 free (26.93). Christine Gillies added a sixth place finish in the 50 butterfly (31.09).
Learn, Edwards and Gillies teamed up with Smickley in the 400 freestyle relay and the 800 freestyle relay to take a fourth in the 400 (4:01.54) and a sixth in the 800 (8:58.09). After teaming with Smickley, the three teamed up with Samantha Kutskel in the 400 medley relay and the 200 medley relay to take a fifth in the 200 (2:05.92) and a sixth in the 400 (4:42.34).
The swimmers head to East Stroudsburg University next Saturday for a dual meet at 1 pm.