RELEASE DATE: 12/06/08
FOR IMMEDIATE RELEASE: Millersville hands women swimmers a loss in PSAC competition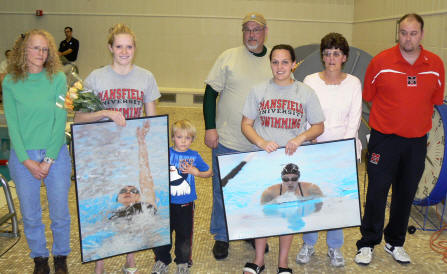 Mansfield's women swim team hosted their senior day as they said farewell to seniors Tricia Learn and Samantha Kutskel. The women also hosted Millersville in what would become a 154-40 loss to the Marauders.
In post-game ceremonies, Learn and Kutskel were escorted onto the swimming deck by their parents and were handed gifts from their teammates and action posters of themselves.
Learn raced her way to two wins on the day, leading the Mountaineers. Her win in the 100 yard backstroke earned her the chance to not only race in the 200 yard backstroke at the PSAC championships which she had qualified for earlier this year, but to also race in the 100 yard backstroke. Learn won the backstroke in a time of 1:02.65 and also won the 400 yard individual medley in a time of 4:59.08.
Christine Gillies took second place in the 100 yard freestyle in a time of 1:01.68. Megan Smickley took two third place finishes. She finished the 1000 yard freestyle in 12:32.04 and the 100 yard butterfly in 1:10.26.
Jonna Chilensky finished fourth in the 50 yard freestyle in a time of 35.07. Kutskel finished fourth in the 100 yard breaststroke with a time of 1:23.62. Emily Arnold took fifth in the 100 yard butterfly with a time of 1:16.68.
Mansfield travels to Wells College with Pitt-Bradford on January 17 for a 1pm meet.