RELEASE DATE: 11/01/08
FOR IMMEDIATE RELEASE: Wave-Maker, Learn Takes Three Wins at Decker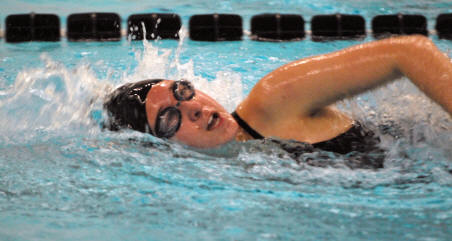 Tricia Learn (Troy) swam to three first place finishes against Lock Haven University Saturday afternoon at Decker Gymnasium.
Between coming in first place in the 200 yard freestyle (2:07.66), the 200 yard individual medley (2:27.26) and the 200 yard backstroke (2:17.46), Learn gained 27 individual points towards Mansfield's total of 59 points against Lock Haven's 90 points.
Samantha Kutskel (DuBois) was awarded a first place finish in the 200 yard breaststroke (3:05.02). Followed within one second behind was teammate, Emily Arnold (Addison, NY) (3:05.84).
Megan Smickley (Bartonsville) tacked on her own second place finish in the 200 yard butterfly (2:38.41).
Jonna Chilensky (Amity Township) finished the individual scoring with a fourth place finish in the 50 yard freestyle (36.43).
Mansfield's 400 yard medley relay team and 400 yard freestyle relay team of Smickley, Kutskel, Arnold and Chilensky finished in third place (5:19.56) in the medley relay and was awarded first place in the freestyle relay (5:01.83).
Mansfield's next meet will be at Edinboro University with Kutztown University next Saturday at 1 pm.