RELEASE DATE: 11/24/08
FOR IMMEDIATE RELEASE: Women swimmers fall short during two-day invitational at IUP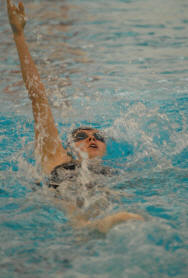 The Mansfield swimmers got off to a slow start on November 20 as the women would only take home two finishes.
Tricia Learn competed in the 200 yard individual medley as she finished eight with a time of 2:20.35. Christine Gillies finished 16th in the 50 yard freestyle in 27.47.
On the next day, Learn opened the day up with a fifth place finish in the 400 yard individual medley with a time of 5:01.30.
Learn also took another fifth place finish that day in the 100 yard backstroke with a time of 1:03.66 just missing the PSAC qualifying spot that was taken by IUPís Erin Barbetta who swam a 1:03.51. Even in the preliminaries, Learn and Barbetta were neck-and-neck as Barbetta beat Learn by .03 seconds.
To finish the day off, Megan Smickley and Gillies competed in the 100 yard butterfly taking 15th and 18th places.
Learn and Smickley finished the final day of the Indiana University of Pennsylvania Crimson Hawk Invite as the two swam their last events for the weekend.
Learn swam to an impressive third place finish in the 200 yard backstroke in 2:16.15. The time did not just get Learn a third place finish but also earned her a trip to the PSAC Championships at Cumberland Valley High School.
Smickley finished the meet off with an eight place finish in the 200 yard butterfly with a time of 2:31.02.