RELEASE DATE: 1/31/09
FOR IMMEDIATE RELEASE: Tricia Learn triple-winner for Mountaineer swimmers in 133-87 setback at East Stroudsburg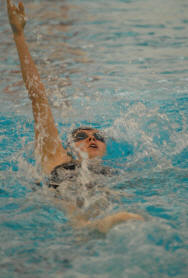 EAST STROUDSBURG – Senior Tricia Learn was a triple-winner in her final dual meet of her collegiate career, but Mansfield dropped a 133-87 decision at East Stroudsburg in a PSAC women's swimming meet Saturday afternoon.
Learn won the 100 back (1:04.01) finishing more than three second ahead of the second place finisher and repeated that performance with a first-place finish in the 200 back (2:15.00), this time finishing more than 11 seconds ahead of the runner-up.
Learn capped off her day winning the 200 IM (2:18.88).
Megan Smickley took first in the 1000 free (11:58.39) and was second in the 500 free (5:53.59).
Mansfield ends the regular season with a 2-10 overall mark and will compete at the PSAC Championships starting on Feb. 19.