RELEASE DATE: 10/25/08
FOR IMMEDIATE RELEASE: Swim Team Falls at Bloomsburg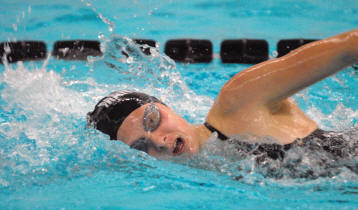 Megan Smickley, Emily Arnold, Tricia Learn and Kaci Mentzer each were credited with wins in their events Saturday afternoon as Mansfield dropped a 77-57 decision to Bloomsburg in a PSAC women's swimming meet Saturday at Bloomsburg.
With four first place finishes individually and one relay first place victory, the Mountaineers got off to a slow start as their 200 yard medley relay team of Learn, Samantha Kutskel, Smickley and Arnold took third in the dual meet with a time of 2:12.72.
Learn then had to go straight into the 1000 yard freestyle race. Having been in the previous race before, Learn took fifth place with a time of 12:04.36. Though later on in the day, Learn showed her endurance as she won the 200 yard backstroke with a time of 2:16.48, qualifying for PSAC's.
Mentzer gave Bloomsburg their first scare of the day as she raced to a second place finish as she beat the rest of the pool by at least four seconds with her time of 2:09.20. Mentzer finished her individual day off with her win in the 500 yard freestyle with a time of 5:45.98.
Smickley and Arnold then added their first place wins into the mix in the 200 yard butterfly and 100 yard freestyle. Smickley won the butterfly in 2:34.42 and Arnold won the freestyle in 1:11.57.
Mansfield finished the day off with a win in the 200 yard freestyle relay with the team of Smickley, Kutskel, Arnold and Mentzer in a time of 2:02.30.