RELEASE DATE: 10/20/08
FOR IMMEDIATE RELEASE: Women Swimmers Speed To High Times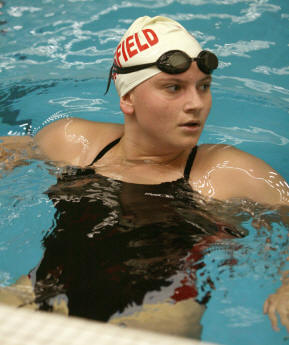 The Mansfield women's swimming team earned good times at the Bloomsburg University Relay Meet Saturday.
The 300 yard butterfly relay of Megan Smickley (Bartonsville), Emily Arnold (Addison, NY) and Kaci Mentzer (Boiling Springs) swam a 3:40.41. Smickley swam a 100 yard split of 1:12.03, Arnold swam a 1:16.13 and Mentzer swam a 1:12.25.
Tricia Learn (Troy), Jillian Holden (Apalachin, NY) and Samantha Kutskel (DuBois) teamed up for the 300 yard backstroke to swim splits of 1:06.30, 1:11.76 and 1:19.67 together to get a total time of 3:37.73.
Smickley, Arnold and Holden swam the 300 yard breaststroke in 4:21.83 with splits of 1:28.88, 1:26.94 and 1:26.01.
Learn, Kutskel, Smickley and Mentzer combined each of the 200 yard freestyle splits of 2:12.39, 2:32.35, 2:25.61 and 2:09.47 in the 800 yard freestyle relay to get a 9:22.92.
The 500 yard freestyle relay team of Holden, Arnold, Learn and Mentzer swam a 5:34.26.
The 400 medley relay team of backstroker, Mentzer, breaststroker, Holden, butterflyer, Arnold and freestylist, Learn combined a time of 4:51.45.
The 200 yard freestyle team of Jonna Chilensky (Amity Township), Kutskel, Mentzer and Learn swam a 2:06.66.
The 400 individual medley relay team of Holden, Kutskel, Smickley and Arnold swam a 5:12.71.