RELEASE DATE: 10/13/07
FOR IMMEDIATE RELEASE: Mountie swimmers open season with 109-66 win over Penn State – Altoona – Maureen Maikner and Mary Tucker dual winners for Mansfield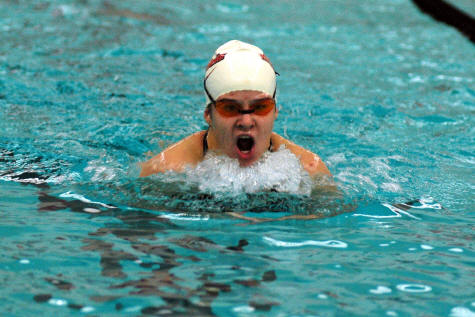 MANSFIELD -- Maureen Maikner and Mary Tucker each won two events to lead the Mansfield University women's swim team to a 109-66 win over Penn State-Altoona in the 2007-08 season opener for both teams Saturday afternoon at Decker Pool.
Maikner posted back-to-back wins victories winning the 200 IM (27:42) by more than seven seconds before turning right around to win the 100 butterfly (1:05.44) by almost 10 seconds.
Tucker edged out teammate Amy Hoffman to win the 200 free with a time of 2:13.16 to Hoffman's 2:13.74. Tucker also won the 500 free over teammate Katie Stillittano with a time of 6:01.21 to Stillittano's 6:04.90.
Stillittano took first in an exciting 1000 free edging PSU-Altoona's Brittany Bauer at the wall with a time of 12:17.22 to Bauer's 12:17.33.
Also taking first for the Mountaineers was Sarah Koontz in the 100 free (1:01.32). Koontz took second in the 50 free while swimming the first leg of the winning 200-yard free relay.
Mansfield 109 Penn State-Altoona 66
200 Yard Medley Relay
PSU-Altoona 2:07.45 (Brittany Yingling, Brittany Bauer, Lauren Breaner, Coutrney Woodring)
MANS 2:07.88 (mary Tucker, Maureen maikner, Katie Stillittano, Amy Hoffman)
1000 Yard Free
MANS 12:17.22 Katie Stillittano
PSU-Altoona 12:17.33 Brittany Bauer
200 Yard Free
MANS 2:13.16 Mary Tucker
MANS 2:13.74 Amy Hoffman
PSU-Altoona 2:23.12 Lauren Brenner
PSU-Altoona 2:53.14 Christine Perkins
50 Yard Free
PSU-Altoona 27.42 Courtney Woodring
MANS 27.95 Sarah Koontz
PSU-Altoona 29.38 Kristen Estocsin
MANS 34.60 Stacy Allesch
<![if !supportLineBreakNewLine]>
<![endif]>
200 Yard IM
MANS 2:27.68 Maureen Maikner
PSU-Altoona 2:35.17 Brittany Yingling
MANS 2:59.33 Maggie Stengel

100 Yard Butterfly
MANS 1:05.54 Maureen Maikner
PSU-Altoona 1:14.44 Lauren Brenner
MANS 1:14.56 Megan Smickley

100 Yard Free
MANS 1:01.32 Sarah Koontz
PSU-Altoona 1:04.01 Kristen Estocsin
MANS 1:20.98 Stacy Allesch
PSU-Altoona 1:28.18 Lindsey Parady

100 Yard Backstroke
PSU-Altoona 1:10.20 Brittany Yingling
MANS 1:21.20 Megan Smickley
PSU-Altoona 1:28.50 Kristen Estocsin

500 Yard Free
MANS 6:01.21 Mary Tucker
MANS 6:04.90 Katie Stillittano
PSU-Altoona 6:06.38 Brittany Bauer


100 Yard Breaststroke
MANS 1:30.21 Maggie Stengel
MANS 1:59.40 Stacy Allesch

200 Yard Free Relay
MANS 1:59.07 Sarah Koontz, Maggie Stengel, Megan Smickley, Amy Hoffman
PSU-Altoona 2:09.53 Estocsin, Parady, Perkins, Woodring