Mansfield University Swimming
2007 Season Outlook
Youthful Mountaineers look forward to start of 2007-08 season
The Mansfield University swim team will kick off its season with the home opener on Saturday, October 13 at noon.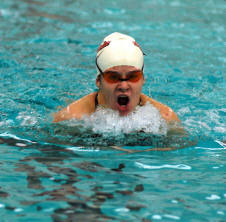 The 2007-08 edition of the Mountaineers features nine swimmers led by veterans Maureen Maikner, Tricia Learn, Mary Tucker and Sarah Koontz.
Head coach Danita Fox, entering her 11th season overseeing the program, is pleased with the way the team has been practicing the past few weeks.
"We have a small squad of women," Fox said. "They have shown a lot of heart and dedication in their training the past few weeks."
The group of nine is lead by lone senior Maureen Maikner. Maikner, who swam in the 200 medley relay at the PSAC Championship last year, has put in a lot of time in early season practices and looks promising for the upcoming meets. Maikner will compete individually in the butterfly and the breaststroke.
Junior Tricia Learn earned a place in the PSAC Championships last season after breaking the school record in the 1650 free. She also swam in the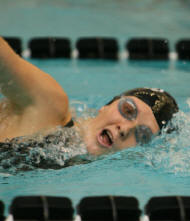 4x400 free relay in the PSAC Championships and is expected to be one of the teams top point scorers in distance and medley events. She brings experience from the cross country team to swim the distance events for the swim team. She will be competing in the distance free and individual medley events.
Fellow junior Mary Tucker will also compete in the distance free and will swim in the 100 backstroke. Tucker has not competed in this event since high school.
Sophomore Sarah Koontz is back after a solid freshman season that saw her earn the team's Most Improved Player honors and will compete in the sprint free events this year. Koontz competed with Learn at the PSAC Championships in the 4x400 free relay last year. Koontz has looked outstanding so far in practice.
Freshman Katie Stillittano will round out the distance team and will compete in the middle distance freestyle events and the butterfly.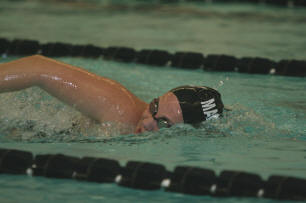 Freshman Amy Hoffman has been a pleasant surprise so far in practice. Hoffman will compete in the sprint and middle distance free events.
Junior Stacey Allesch will race in the freestyle.
Sophomore Maggie Stengel competes in the breaststroke and freshman Megan Smickley will compete in the butterfly.
The team travels to the Bloomsburg Relays next week before hosting Bloomsburg in a dual meet on Oct. 27.