RELEASE DATE: 1/20/07
FOR IMMEDIATE RELEASE: Mansfield Beats Wells 61-45 on Senior Day – Seniors Daniella Borrelli and Abbe Tipton Honored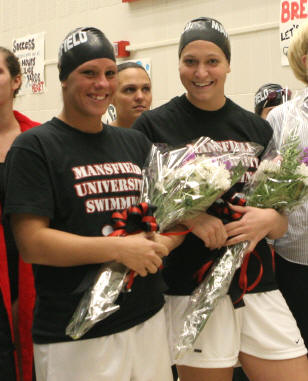 MANSFIELD – Tricia Learn, Amanda Oechler and Maureen Maikner won two events each and Mansfield took first in every event in a 61-45 win over Wells College in women's swimming action at Decker Pool Saturday afternoon.
It was the final home meet of the season for the Mountaineers with seniors Daniella Borrelli (Vestal,NY/Vestal) and Abbe Tipton (Elmira,NY/EFA) honored during pre-meet ceremonies.
Learn (Mansfield) won both the 200 (2:04.41), 500 (5:39.17), freestyle while also anchoring the winning 400 free relay team.
Freshman Amanda Oechler (Montoursville/Montoursville) qualified for the PSAC Championship in the 400 IM with a wining time of 5:00.46 and also won the 200 butterfly (2:40.41) and swam the second leg of the winning 400 medley relay team.
Maureen Maikner (Zionsville/Emmaus) took first in the 1000 free (12:31.93) and the 200 breaststroke (2:43.96) and swam the third leg of the 400 medley relay.
Tipton won the 200 back (2:19.13) and swam the opening leg of the winning 400 medley relay team.
Sarah Koontz (York/William Penn) won the 50 free (27.93) and was second in the 100 free (1:02.85). Freshman Tamar Maloney (Fleetwod/Brandywine Heights) won the 100 free (58.20) and swam the anchor leg of the 400 yard relay.
Daniella Borelli was second in the 50 free (29.33) and third in the 100 free in her final meet at Decker Pool.
Mary Tucker (Corning/NY/Corning East) was second in the 200 free (2:13.83) and in the 500 free (5:39.17) while Samantha Kutskel (DuBois/DuBois) was third in the 50 free (30.81).
The team travels to East Stroudsburg on Feb. 3.