RELEASE DATE: 2/03/07
FOR IMMEDIATE RELEASE: Tricia Learn Dual Winner at ESU -- Qualifies for 200 free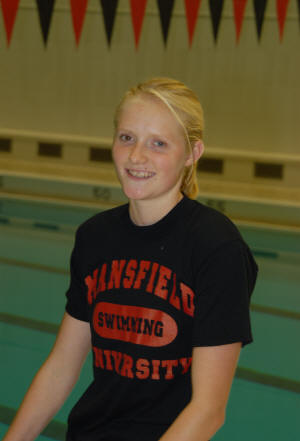 EAST STROUDSBURG -- Tricia Learn won both the 200 and 500 freestyle at the ESU Invitational at East Stroudsburg Saturday afternoon.
Learn posted a PSAC Championship qualifying time of 2:03.65 in winning the 200 while winning the 500 freestyle with a time of 5:32.06. She was also 8th in the 100 free (59.06).
Senior Abbe Tipton, who had qualified the the PSAC Championship earlier in the season, finished second in the 100 and 200 backstroke. She was edged out by Millersville's Sarah Johnson in the 200 finishing with a time of 1:02.84 to Johnson's 1:02.72 while posting a time of 2:15.23 in the 200.
Also placing the the Mountaineers were Mary Tucker with a third-place time of 20:25.10 in the 1650 free and was fourth in the 500 free (5:59.67). Tamar Maloney was third in the 500 free (5:46.94)and sixth in the 200 IM (2:26.67).
Maureen Maikner was fifth in the 200 breaststroke (2:50.57) and eighth in the 100 breaststroke. Sarah Koontz was eighth in the 200 free (2:18.13).
The 200 medley relay team of Tipton, Koontz, Maikner and Maloney finished fifth out of nine teams.
The Mountaineers will spend the next couple of weeks preparing for the PSAC Championship on Feb. 22-25.