RELEASE DATE: 2/23/07

FOR IMMEDIATE RELEASE: Mountie Swimmers Garner 18 Points on Day Two at PSAC Championships
MECHANICSBURG, PA -- The Mountaineer swim team scored 18 points during the second day of the PSAC swimming Championships hosted by Shippensburg University.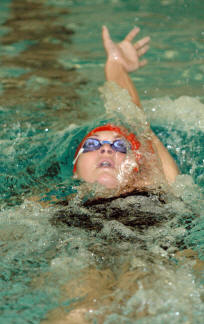 The 400 yard medley relay team of Abbe Tipton, Amanda Oechler, Maureen Maikner, and Tamar Maloney finished 12 place in the event and picked up 10 points with a time of 4:19.84.
Tipton, Oechler, and Maloney teamed up with Tricia Learn to swim the 200 yard freestyle relay where the Mountaineer women finished in 13 place and earned eight points.
Learn swam yesterday in the 1,000 yard freestyle event where she finished 24th with a time of 11:27.14 which was 44 seconds faster than her qualifying seed in the event.
The Mountaineer women currently sit 13th in the team standings with 18 points. West Chester has a commanding lead with 279 team points while Clarion is a distant second with 148 points.
Mansfield continues action in the pool tomorrow morning starting at 10:00 am at Cumberland Valley High School in Mechanicsburg, PA.
Check back here tomorrow night for updates on day three of the PSAC Swimming Championships.