RELEASE DATE: 4/21/08
FOR IMMEDIATE RELEASE: New era of Mansfield football begins with spring practice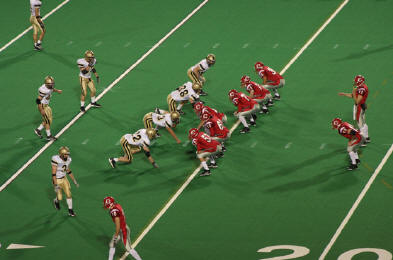 MANSFIELD – It may not be viewed by a crowd of 73,000 that took in last Saturday's Blue-White spring game at Penn State, but a tradition as old as any of those the Nittany Lions hold resumes this week at Mansfield University.
After discontinuing its 115-year old football program at the conclusion of the 2006 season, football will make a miraculous comeback starting Tuesday, April 22, when 40 or so current Mansfield students participate in the first spring practice session for the university's newly formed sprint football program.
"It will give us a chance to see what we have," said Head Coach Dan Davis. "We're pleased to have such a good turnout of players from on-campus. We've also had a lot of interest from kids wanting to come to Mansfield to play sprint football this fall."
Mansfield and Princeton have an exception to the no spring practice rule from the Collegiate Sprint Football League (CSFL). The Mountaineers will conduct five practice sessions during the next two weeks on the Ed Russell Practice Field.
"We're not going to do any hitting this spring," explains Davis. "Except for practice shorts and tee-shirts we won't be in equipment at all. No helmets or pads. Instead we will be testing football ability and skill levels and maybe try to find some offensive line candidates."
Sprint football has been around for more than 70 years and is currently played by Cornell University, The University of Pennsylvania, Princeton University, The U.S. Military Academy at West Point and The U.S. Naval Academy at Annapolis.
Mansfield will be the sixth member of the CSFL and will play Cornell, Penn and Princeton in 2008 with the possibility of adding both Army and Navy in 2009 or 2010.
Mansfield is the only public institution in the country to provide a sprint football.
Sprint Football is a collegiate varsity program that's overseen by the athletic department in all six schools. The only difference is a maximum weight limit of 172 pounds for the players.
Since announcing the addition of sprint football in October, Mansfield has received more than 150 on-line and telephone inquiries from high school students interested in playing at Mansfield.
To date, Mansfield's first recruiting class has more 20 players who have been accepted into the school and have verbally committed to playing sprint football in 2008.
Mansfield opens the 2008 season by hosting Princeton University in a scrimmage on Sept. 20. The first official game is scheduled for Sept. 27 when Mansfield hosts Cornell. The Mountaineers will host Penn on Oct. 4 as the centerpiece of Homecoming Weekend.
Mansfield University Sprint Football Practice Schedule

Tuesday, April 22 5:15 – 6:15 Ed Russell practice field
Wednesday, April 23 4:45 -- 6:15 Ed Russell practice field
Thursday, April 24 4:45 – 6:15 Ed Russell practice field
Monday, April 28 4:45 – 6:15 Ed Russell practice field
Tuesday, April 29 4:45 – 6:15 Ed Russell practice field