RELEASE DATE: 9/20/08
FOR IMMEDIATE RELEASE: Great weather and big crowd greats sprint football scrimmage with Princeton
MANSFIELD – An estimated 1,000 fans turned out under bright blue skies for a sneak preview of Mansfield's sprint football program as the Mountaineers hosted Princeton in a scrimmage Saturday afternoon at Karl Van Norman Field.
It was the first intercollegiate football action at Van Norman Field since Mansfield ended its Division II program at the conclusion of the 2006 season.
"We did a lot of good things out there today and have a lot of other things to work on," said head coach Dan Davis about his team's first action against a CSFL opponent. "Defensively we played very well at times and we're able to produce a couple of big plays on offense."
No score was officially kept in the scrimmage which was played under game conditions with the exception the teams just opened the halves with kickoffs and did not kickoff following points scored.
Mansfield quarterback Danny Moss (Anchorage,AK/Diamond) connected with at least seven different receivers and threw a pair of touchdown passes in the scrimmage. The leading receivers included Kevin Valentine (Tonopah,NV/Tonopah) , Ryan Bernaiche (Hollis,ME/Bonny Eagle), Lucas Bailey (Canton/Canton) and Desmen Johnson (Philadelphia/Overbrook) each having multiple catches.
Mansfield also used a multitude of running back including Paul Frederick (Lancaster/Penn Manor), Michael Steele (Montoursville/Montoursville) and Johnson seeing action.
Will Williams (Pittsburgh/Peabody), Dorsea Palmer (Philadelphia/Bartrum Motivation), Jim Wronski (Mahanoy City/Mahanoy Area) and Cody Croasdale (Nicholson/Lackawanna Trail) were the defensive leaders.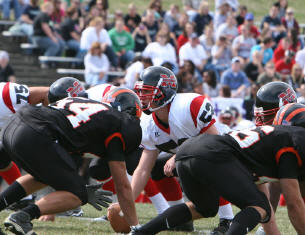 Princeton was led offensively by running back Anthony Soroka and quarterback Andrew Dixon. Brendan Reilly recorded the most tackles of anyone in the scrimmage.
Mansfield will play it's first-ever sprint football game next Saturday against Cornell University starting at 12:30 p.m. at Karl Van Norman. Cornell dropped its season opener 19-3 at Pennsylvania on Friday night.
Admission to the contest is free as part of Mansfield's 1890s Weekend and Parents and Family Day celebration.
Click Here to View More Images of Mansfield - Princeton Scrimmage