RELEASE DATE: 10/02/08
FOR IMMEDIATE RELEASE: Mountaineers face tough test in hosting CSFL leader Pennsylvania this Saturday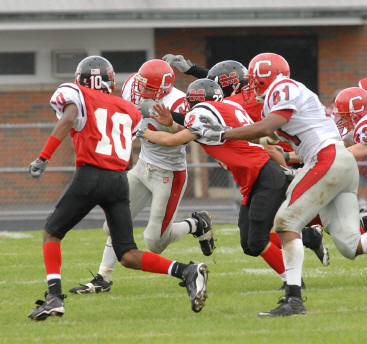 MANSFIELD -- The Mansfield University Mountaineers new sprint football team will face a stiff challenge when they host CSFL leader the University of Pennsylvania this Saturday as the highlight of the 2008 Homecoming celebration.
Game time is set for 1 p.m. and the game will be broadcast world-wide on the internet by the legendary Bob Michaels at GoMounties.com.
The Mountaineers are celebrating their 116-year of football and their first season as a member of the Collegiate Sprint Football League after the NCAA Division II football program was ended because of fiscal concerns at the end of the 2006 season.
Although today's game marks the first time Mansfield and Pennsylvania will meet in a sprint contest, the two teams have meet before on the gridiron. Penn hosted Mansfield (then known as Mansfield State Normal School) back in 1898. The Quakers, then one of the top football program's in the nation, were coached by Mansfield alum George Woodruff who would post a 124-15-2 record during his tenure at Penn. Mansfield lost the game 56-0 with former Mansfield standout Peter Overfield now playing on the line for Penn.
Overfield was one of four former Mansfield players who moved on to Penn and became Walter Camp All-Americans. The others include Marshall Reynolds who was a Walter Camp All-American in 1903 and holds the Penn record for longest punt with an 80-yard boot against Columbia in 1904. James Bull (1895) and Wiley Woodruff (1896) also earned All-American honors at Penn.
Saturday's contest could prove to be just as tough as a challenge for the Mountaineers as it was in 1898. Penn has been the most dominant team in the CSFL through the early portion of the schedule beating Cornell 17-3 before posting a 46-0 shutout over Princeton.
Head coach Bill Wagner is in his 38th season as head coach at Penn and has perhaps on of his best teams ever this season.
The Quakers have outscored their first two opponents 60-3 behind a veteran defense unit and have 17 returning All-CSFL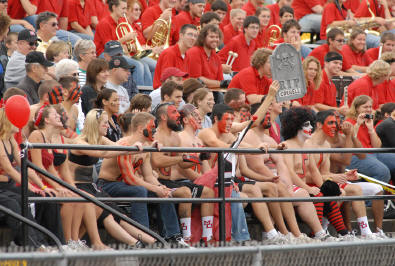 selection. Senior quarterback Michael D'Angelo leads the offense with Marten Basta and Clarke Armatis his leading receivers. Mike Bagnoli and Wifi Fernandez are the top rushers and Michael McMullen the leading tackler.
Mansfield inexperience showed against Cornell. Just two players on the Mountaineers 50-player roster had ever played in a collegiate football game before.
Mansfield, which scored four touchdowns against Princeton in a scrimmage a week earlier, struggled offensively against Cornell. The young Mountaineers, comprised mostly of freshmen, were led by quarterback Danny Moss completed 6-of-13 passes for 47 yards. Backup Sean Kenny completed five passes for 25 yards.
Freshman receiver Tyler Floyd caught four passes for 25 yards with fellow freshman Lucas Bailey had three catches also for 25 yards.
Defensively linebacker Solomon Isom recorded a game high 12 tackles followed by freshman defensive linemen Cody Croasdale with 11. Jim Wronski added nine tackles with Dorsea Palmer and Colin Hammerstein seven each. Freshman Will Williams was credited with five stops.
Matt Gant had a solid day punting averaging 37.5 yards on eight kicks. He also caught a pass.
Mansfield will have a three week break before traveling to Princeton on Oct. 24 and ending the season with a rematch at Cornell on Oct. 31.