RELEASE DATE: 3/03/08
FOR IMMEDIATE RELEASE: Mansfield University schedules press conference to announce head sprint football coach on Tuesday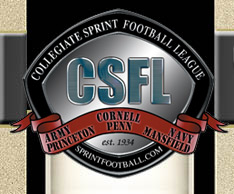 MANSFIELD – Mansfield University has scheduled a press conference on Tuesday to announce and introduce the new head sprint football coach to area media, the MU community, student body and supporters.
The press conference will start at 12:30 p.m. in the lobby of Decker Gymnasium. There will also be a link to listen to the press conference live at www.GoMounties.com.
The press conference is open to the public.
Mansfield dropped its 115-year old NCAA Division II football program at the conclusion of the 2006 season because of budgetary reasons.
Following one season without football (2007) Mansfield has been accepted into the Collegiate Sprint Football League (CSFL) where they will compete with the five other league members: Cornell University, the University of Pennsylvania, Princeton University, the United States Military Academy at West Point (Army) and the United States Military Naval Academy at Annapolis (Navy).
Sprint football has been in existence for more than 70-years and is a varsity collegiate sport that plays by the same rules as NCAA programs with the exception of a 172 pound weight limit.
Mansfield will open the 2008 season by hosting Princeton University in a scrimmage on Sept. 20, 2008 before hosting Cornell University on Sept. 27, 2008 and the University of Pennsylvania on Oct. 4, 2008.
### GoMounties.com ###