RELEASE DATE: 10/28/08
FOR IMMEDIATE RELEASE: Mansfield wraps up inaugural sprint football season at Cornell this Friday night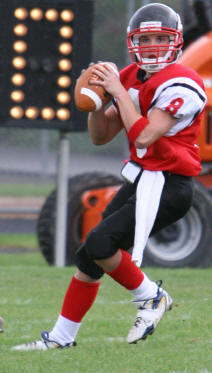 MANSFIELD – Fresh on the heels of a 28-3 win over Princeton last week, the Mansfield University sprint football team will wrap up its inaugural season by trying to throw a scare in into Cornell University this Halloween eve on Friday evening at Schoellkoph Field.
Kickoff is set for 7 p.m. and the game will be broadcast live on WNTE 89.5 FM and streamed on the internet at www.GoMounties.com.
It will be the second time the two teams will meet this season after Cornell posted a 35-0 win at Mansfield in the Mountaineers first-ever CSFL game on Sept. 27.
That game, broadcast live to a regional audience and later replayed to a national audience on Fox Sports Network and played before more than 3,000 people at Karl Van Norman Field, was a learning experience for a young Mansfield team.
"We got beat, but we learned a lot," said Mountaineer head coach Dan Davis. "Cornell was certainly the better team that day, but we also made a lot of rookie mistakes and hopefully we've learned from those mistakes."
Mansfield has shown marked improvement since the opener, losing a hard-fought 34-12 decision to the University of Pennsylvania before a crowd of 3,800 for Homecoming Weekend at Van Norman Field before recording the win at Princeton Stadium last Friday.
The Mountaineers scored the first two touchdowns given up by Pennsylvania this season and rolled up 375-yards in total offense including 246-yards on the ground against Princeton.
Mansfield was coming off a two-week layoff heading into the Princeton game that rust showed with turnovers and penalties helping Princeton to a 3-0 at the end of the first quarter.
Mansfield scored its first rushing touchdown of the season early in second quarter when freshman Lucas Bailey capped off a seven-play, 61-yard drive with a four yard run and freshman Michael Steele kicked the point after.
The Mountaineers scored again six minutes later when freshman Tyler Floyd went around end for a 41-yard touchdown run. Steele's extra-point gave Mansfield a 14-3 halftime lead.
Mansfield increased the lead 21-3 late in the third quarter on a 9-yard pass reception by Matt Gant from quarterback Danny Moss and scored the game's final touchdown with less than two-minutes left on a seven-yard run by Paul Frederick.
Floyd was the game's leading rusher with 71-yards on 10 carries while Bailey had 58-yards on 13 carries. Moss picked up 45-yards on 13 carries while Frederick racked up 37-yards on nine totes.
Moss completed 10-of-20 passes for 105-yards with one touchdown and was intercepted once. Gant was his leading receiver with six catches for 50 yards and a touchdown. Ryan Bernaiche had two catches for 21-yards.
Freshman linebacker Will Williams was the teams leading tackler for the second straight game with nine stops including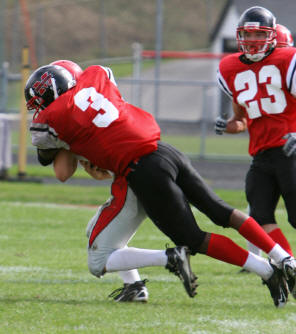 two for a loss and a sack. Linebacker Solomon Isom had six tackles as did Daniel Krause. Freshman defensive lineman Cody Croasdale was credited with four tackles including a game-high three sacks.
Mansfield also picked off four passes in the game with Jim Wronski, Adam Breon, Cedric Ingram and Ray Shaffer each having an interception.
In three games this season Moss has completed 30-of-63 passes for 279 yards and two touchdowns while being intercepted just once. Floyd has been his favorite receiver with 10 catches for 109-yards. Bailey has eight grabs for 55-yards while Bernaiche and Gant have seven receptions each for 77 and 51-yards respectively.
Floyd is also the top rusher averaging 5.9 yards per carry while Isom tops the defense with 30 tackles with Williams accounting for 28 stops.
Cornell is 4-2 overall after quarterback Zak Dentes rallied the Big Red to a 12-10 last-minute win at Army Friday night. The Big Red still has a chance to earn a tie for the CSFL title if they beat Mansfield and Army can upset Navy.
Dentes, a two-time All-CSFL selection, is one of the premier quarterback's in the conference and has completed 69-of-133 passes this season for 797 yards and five touchdowns while being intercepted six times.
He has a trio of favorite receivers including Josh Friedman (20 catches, 271 yards), Upal Sarker (17-198, 3 TD's) and Mike Brennan (16-278-2 TD's).
Cornell is averaging 369.8 yards per game offensively while a tough defense is allowing just 231.6 yards per game to opponents.
Mansfield will be taking two student buses to the game. The student buses will start loading outside Laurel Hall at 2:30 p.m. with a 3 p.m. departure time on a first-come, first-board basis.
Admission to the game is free.