RELEASE DATE: 9/-06/08
FOR IMMEDIATE RELEASE: Football ends first week of practice with intrasquad scrimmage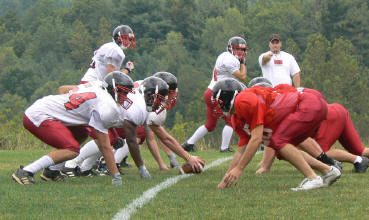 MANSFIELD -- The Mansfield University sprint football team wrapped up its first week of practice with an intra squad scrimmage Saturday morning at Ed Russell Practice Field.
The Mountaineers scrimmaged for more than an hour running defense against offensive with live contact including for the quarterbacks.
The defense seem to have an advantage early but the offense produced a number of nice plays.
The Mountaineers will take Sunday off and test on Monday. The will host Princeton University in a scrimmage on Sept. 20 before opening the 2008 season by hosting Cornell University on Sept. 27.