RELEASE DATE: 10/30/09
FOR IMMEDIATE RELEASE: Mansfield drops season-ender at Cornell 31-14– Turnovers hurt Mansfield in first half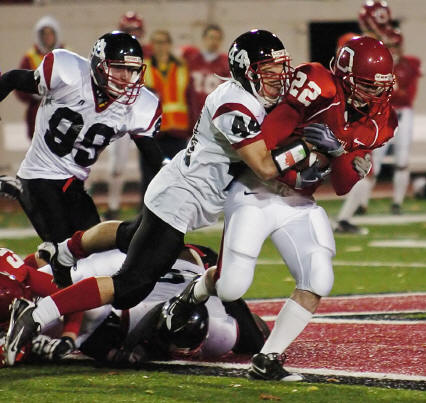 ITHACA,NY – Cornell scored 24 first half points off four Mansfield turnovers to beat Mansfield 31-14 in the final game of the season for both teams at Schoellkopf Field Friday night.
Mansfield ends its first full-season in the CSFL with a 2-5 overall record, while Cornell improves to 4-3.
Mansfield got off to a rough start when the Mountaineers fumbled the opening kickoff on the Cornell 42. The Mountaineer defense held Cornell to a 42-yard field but three more turnovers led to 21 Cornell points giving the Big Red a 24-0 halftime lead.
Mansfield freshman quarterback Kody Plank did pass for 91 yards in the first half including a season-long 46-yard pass to senior Ryan Bernaiche. A interception inside the 10-yard line ended Mansfield's scoring threat.
Andrew Licwinko's 62-yard punt midway through the third quarter helped lead to Mansfield's first touchdown after pinning the Big Red deep in their own territory.
A bad-snap from was picked up by Justin DiMatteo and returned for a 10-yard touchdown. Mansfield got a second shot at a two-point conversion on a roughing the passer penalty. Quarterback Spencer La Mountain flipped a pass to Bernaiche for a two-point conversion closing the gap to 24-8 with six minutes to play in the third quarter.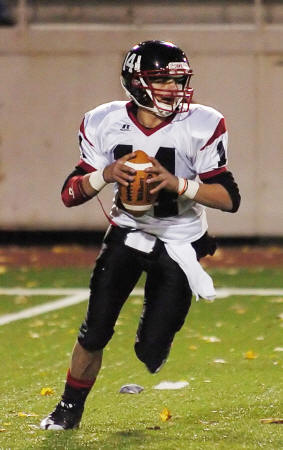 Cornell added another touchdown early in fourth quarter when Chris Stanton out jumped Mansfield's Anthony Mazzone for a 19-yard touchdown pass and 31-8 Big Red lead.
But Mansfield came right back scoring its second touchdown of the game on a fumble-return with freshman Aaron Blinn picked up a loss ball and returned it 34-yards for a touchdown. The two-point conversion failed closing the gap to 31-14.
Plank completed 8-of-18 passes in the first half for 91-yards while Lucas Bailey had six catches for 36 yards and Ben Anderton two catches for 31 yards. Bailey also had 111-yards in kick-off returns.
Aaron Blinn led the defense with a game-high 10 tackles and a fumble return for a touchdown. Trevor McHenry had nine tackles with Justin DiMatteo recording eight tackles and returned a fumble for a touchdown.
Matthew rushed for 125 yards for Cornell while Elliot Corey completed 6-of-18 passes for 80 yards and a touchdown to lead the Cornell offense.