RELEASE DATE: 8/18/08
FOR IMMEDIATE RELEASE: Danny Moss makes first appearance on campus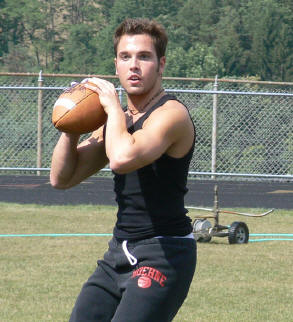 MANSFIELD – Danny Moss, a quarterback who was the first off campus player to commit to play sprint football at Mansfield, arrived on campus today after a long drive from Alaska.
Although the first organized meeting for the new sprint football team isn't scheduled for more than a week (Aug. 26) Moss was eager to see campus for the first time and liked his surrounds.
"I'm really excited about being here," said Moss as he threw some passes in the warm sunshine on Karl Van Norman Field. "This is a great opportunity for me and I'm anxious to get started. I've already been studying the playbook and Mansfield looks like a terrific place to be."
Mansfield's preseason roster includes 73 student-athletes. Players from Texas and Nevada are scheduled to arrive later this week with the first regular practice to be held on Aug. 30.
Mansfield will host Princeton University in a scrimmage on Sept. 20 before hosting Cornell University on Sept. 27.